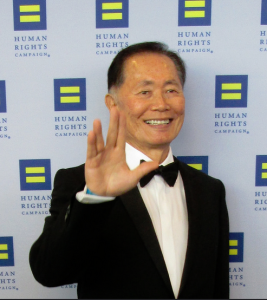 Equality California will honor actor and activist George Takei at the 2016 San Francisco Equality Awards for his extraordinary service to the LGBT community, the LGBT Weekly announced. Takei will be honored with the Equality Advocate Award for his advancement of social justice and the outstanding public example he set as an openly gay man.
"Since his coming out in 2005, George Takei has served as an example and role model, not only for the LGBT community but for everyone seeking to live an open, engaged and authentic life," said Rick Zbur, executive director of Equality California.  "Throughout his life, George has refused to accept anything other than full equality for LGBT people, for immigrants and for all disadvantaged communities.  His dignity, humor, and commitment to social justice has made him one of our community's leaders and most prominent voices. His warmth and courage are an inspiration to all of us."
Prompted by then California governor Schwarzenegger's veto of same-sex marriage legislation, Takei came out in 2005. He married partner Brad Altman in 2008, two months before the passage of Proposition 8. Takei is an outspoken activist for the Asian American and LGBT communities. For his activism, he has received awards from the Japanese American National Museum, Gay & Lesbian Alliance Against Defamation (GLAAD), the Human Rights Campaign (HRC), the American Humanist Association, and the Japanese American National Museum.
At its annual Equality Awards, Equality California recognizes individuals and organizations who have made remarkable efforts to advance equality for LGBT people. In addition to Takei, US House Democratic Leader Nancy Pelosi, businesswoman Kathy Levinson, and former San Francisco Supervisor and civic leader Bevan Dufty will also be awarded at this year's event.
(AsAmNews is an all-volunteer effort of dedicated staff and interns. You can show your support by liking our Facebook page at www.facebook.com/asamnews, following us on Twitter and sharing our stories.)