By Louis Chan
AsAmNews National Correspondent
Every season there seems to be one Asian American who advances deep into American Idol.
In the show's final season, that person is Sonika Vaid who this week advanced into the top 8.
The 20-year old has the look, the voice and the talent Idol viewers seem to love.
You can check out her performance and the judge's reaction to it in the clip below.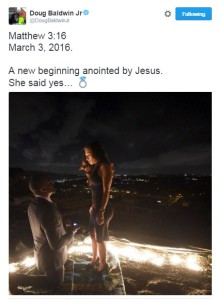 In other Bad Ass Asian news, Doug Baldwin of the Seattle Seahawks announced his engagement.
Baldwin quoted several bible verses from Matthew in making the announcement on social media.
His fiance posted this picture on her Twitter account.
Fiancé? Oh that's a French-ass name!#bestfriendsforever 💍 pic.twitter.com/gIx8pg4JEy

— t. (@TaraKayyyyy) March 4, 2016
(AsAmNews is an all-volunteer effort of dedicated staff and interns. You can show your support by liking our Facebook page at www.facebook.com/asamnews, following us on Twitter and sharing our stories.)