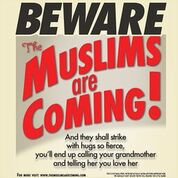 Do you know what the ugly truth about Muslims is?
"Muslims have great frittata recipes", reads one of the humorous ads for the Islamophobia-fighting documentary The Muslims Are Coming. The ads went up in New York subways on Monday, after the movie's production company won a legal battle with the city's Metropolitan Transit Authority, according to Reuters.
"Beware, the Muslims are coming. And they shall strike with hugs so fierce, you'll end up calling your grandmother and telling her you love her," another ad reads.
The tongue-in-cheek humorous ads were created by comedians Negin Farsad and Dean Obeidallah, who directed and starred in "The Muslims Are Coming". The 2013 comedy documentary chronicled the two comedians as they tour the American South and Southwest, doing standup shows and using humor to engage with the local people, with the aim of countering Islamophobia.
The ads, by themselves, likewise aim to promote the understanding and tolerance of Muslims. Their aim is timely in the midst of the anti-Muslim sentiment that this country is currently grappling with.
The film's production company filed a lawsuit in June 2015 against the MTA after it banned the ads following the adoption of a policy against political advertising. In October, a US District Court ruled that the ads were not political in nature.
"Here we are 15 months later and a federal lawsuit later and finally these funny posters are going up that were tied to our film in which it shows Muslims being funny and in a different light," said Obeidallah. "That's all it was about."
(AsAmNews is an all-volunteer effort of dedicated staff and interns. You can show your support by liking our Facebook page at www.facebook.com/asamnews, following us on Twitter and sharing our stories.)