By Louis Chan
AsAmNews National Correspondent
The classic animated favorite Rugrats is expected to return  with reruns to The Splat on TeenNick soon.
The Splat is a block of programming on TeenNick featuring classics from the 80s, 90's and early-mid 2000s.
My son Darryl recalls counting down the day to the premiere of Rugrats in Paris: The Movie in 2000.He had grown up with Rugrats on Nickelodeon in the 90's, but Rugrats in Paris would introduce two Asian American characters– Kimi and her mother Kira. Darryl was 12 back then, but was aware he was seeing one of the few Asian characters in the media at the time.
Kira is voiced by Julia Kato,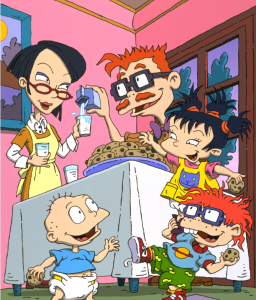 "I loved playing the role of Kira," said Kato to AsAmNews.  "I was happy to play such a good, kind and endearing Japanese and Asian American character! I enjoyed working with such a talented and amazing cast, crew and production too. I felt like both Kira and I became a part of a family!"Kato says when word leaked out that The Splat would bring back Rugrats, both old and new fans began reaching out to her on Twitter and other social media which was unheard of when Kira debuted.
Among the excited fans is Victoria Amanda Lim, now a senior majoring in film at New York University.
"Rugrats was one of my favorite shows growing up," she said.  "When Kimi (Kira's daughter) entered the Rugrats gang in the Rugrats movie, she immediately became my favorite character. I not only liked her because she looked like me, but she also was a fun character that I could relate to. Kimi was spunky, smart, and free-spirited. Kimi and Kira didn't fall into the typical one dimensional stereotypical tropes that most cartoons portrayed Asians as. Kimi and Kira were dynamic and had real personalities. My favorite memory was watching them in the Rugrats Movie in Paris.

The movie's premiere was also a turning point in Kato's career. She became part of a global franchise and also became a series regular on the television series. Her other credits include    Steven Spielberg Presents Animaniacs, Married With Children, Mater's Tall Tales, cartoons for Batman, Ironman, Superman, along with numerous commercials, video games and gigs as a spokesperson/model.
"I feel so honored and elated to have had the chance to play many different roles and most importantly to have been able to represent a positive Asian American character such as "Kira" that was welcomed so warmly on a global level by all the "Rugrats" fans in the USA and around the world," she said.
The biggest challenge for Kato to break into the voice over industry was to meet and gain the trust of the right people . Once she did, life became much easier. She says producers tend to hire actors and actresses they know and worked with before. She says she feels fortunate to have gotten her foot in the door. For anyone interested in voice over work, she has this advice.
"You have to have humility, a thick skin and tenacity," she said. "You have to be able to not take rejection personally and most importantly to not get discouraged.
"Get an education first and foremost. No one can ever take an education and a degree away from you. Study the art of acting and voice acting. Believe
in yourself, then others will too."
For most jobs, you'll work alone in a sound booth. But when she worked with Pixar for Mater's Tall Tales, the studio changed it up a bit. She played several different voices for that production, but her favorite was playing the cute female car.
"On some projects, you work alone in the booth, but with Pixar, several actors and I worked together in a huge recording booth. We played off each
other, improvised and sometimes even physically walked and moved around in the immense recording booth while we acted our parts. It was a unique
and great experience."No official launch date for Rugrats has been announced on The Splash, but TeenNick is already teasing fans about Rugrat's return in various commercials.
Kato is excited about the return and is keeping her eye on the bigger picture.
"I know that currently there is some controversy regarding the lack of minority roles.  My dream is that all races and minorities, including Asian
Americans, are represented and treated equally in Hollywood and beyond."
(AsAmNews is an all-volunteer effort of dedicated staff and interns. You can show your support by liking our Facebook page at www.facebook.com/asamnews, following us on Twitter and sharing our stories.)