By Louis Chan
AsAmNews National Correspondent
An Indian American MBA graduate from Stanford has successfully launched a Kickstarter campaign to produce a new line of diverse dolls consisting of smart, young girls.
Neha Chauhan has surpassed her goal of raising $30,000 for her dolls she calls the Willowbrook Girls.
Chauhan says her dolls will be "smart, ambitious and opinionated." The girl dolls who will be in the fifth grade will also be "intelligent, goal oriented and outspoken."
Among the dolls is Anjali Shah who is described as having stars in her eyes. She dreams of acting on Broadway or starring in a movie one day.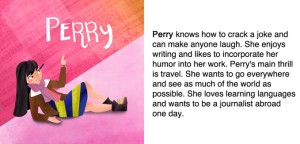 Perry is funny and makes people smile. She loves learning languages and wants to be a journalist abroad.
Says Chauhan "We want to give girls a different perspective on their gender identity relative to traditional dolls by exposing them to relatable female characters with career ambitions that include ones in which women are underrepresented. Our dolls are not "girl coders" or "girl presidents"—they're coders, class presidents, and so much more. We want girls to embrace what they already know is in them. The Willowbrook Girls serve as an example of seven girls who do just that."
(AsAmNews is an all-volunteer effort of dedicated staff and interns. You can show your support by liking our Facebook page at  www.facebook.com/asamnews, following us on Twitter and sharing our stories.)