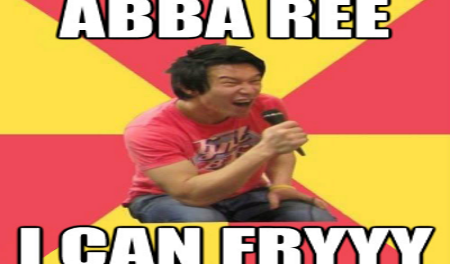 The Cornell Black Law Student Association is apologizing for an offensive image sent out on its listserve, reports the Cornell Daily Sun.

The meme intended to promote an upcoming event featured a photo of a singing Asian man with the caption ABBA REE I CAN FRYYY, an apparent reference to the way an Asian would supposedly sing the words I Believe I can Fly.

The Black student group immediately apologized

"On behalf of BLSA, we would like to formally apologize for an offensive image included in an earlier advertisement of a BLSA-sponsored event," the statement reads. "BLSA was created — and strives to be — a diverse network of students committed to fostering an inclusive environment within the law school community."

The Cornell Asian Pacific American Law Student Association publicly accepted the apology. Since the incident a month ago, the two groups have jointly held a panel discussion entitled Unconscious Bias.

The incident is reminiscent of an incident at UC Irvine when an Asian American fraternity produced a video take off using blackface on one of its members. That incident prompted an apology from the Lambda Theta Delta which eventually lead to the group suspending itself for one year.

(AsAmNews is an all-volunteer effort of dedicated staff and interns. You can show your support by liking our Facebook page at www.facebook.com/asamnews, following us on Twitter and sharing our stories.)