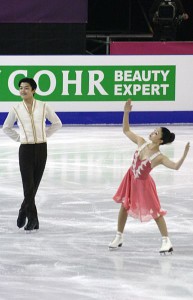 By Louis Chan
AsAmNews National Correspondent

Home cooking was just the right recipe for Alex and Maia Shibutani at the World Figure Skating Champions in Boston this past week.
The brother and sister team took silver, joining bronze medal winners Evan Bates and Madison Chock, whose father is Hawaiian-Chinese, and first place finishers Gabriella Papadakis and Guillaume Cizeron of France.
Post press conference snap #Worlds2016 pic.twitter.com/4QrX1fO5Qu

— ISU Figure Skating (@ISU_Figure) April 1, 2016
"Alex (a Boston native) and I are incredibly proud of this season," said Maia . "We've been working so hard and to have two moments like we did at this competition in front of a home audience, you really can't ask for anything more. They were supporting us every single step out there and I knew I could really trust Alex and that was the perfect way to end our season. Those were our best performances."
It was their first trip back to the world championship podium in five years. They credited hard work for their return.
"I think we really worked hard over the off season to show a lot of progress. Our material this year really suited us and I think that going forward into next year we can continue onto the trend we've discovered. We've really had taken our skating to another level this year and we're excited about that."
Both the Shibutanis, Chock and Bates remain American contenders to medal in the 2018 Winter Olympics in PyeongChang, South Korea.
(AsAmNews is an all-volunteer effort of dedicated staff and interns. You can show your support by liking our Facebook page at  www.facebook.com/asamnews, following us on Twitter and sharing our stories.)