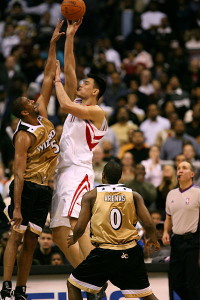 The NBA had never seen a player like Yao Ming.
Not only was he 7'6″ tall, he was Chinese.
Fans of Yao, who was named to the 2016 class of the NBA Hall of Fame yesterday, will vividly recall the first time he faced Shaquille O'Neil, Yao blocked Shaq's first three shots. They'll also recall when Shaq mocked Yao's Chinese accent.
"Tell Yao Ming, 'Ching-chong-yang-wah-ah-so.'" Shaq cracked.
Shaq would later apologize and today speaks very highly of his formal rival.
"The first time I met him he blocked my shot like seven times, I didn't know who he was," recalled Shaq to ESPN. "He was actually the first guy to turn around and look me in the eye and shoot a jumper right in my face. Yao, I want to say congratulations to you and the nation of China. You definitely deserve it. You're a great player and a great ambassador to the game. A great friend. Ni Hao and congratulations, brother."
Shaq, Yao and Alan Iverson Monday joined Yao as the  2016 class of inductees into the NBA Hall of Fame.
Golden State Warriors coach Steve Kerr was an NBA analyst for TNT in 2004 when he called Yao a "chinaman" during a telecast.
"I apologize for my ignorance," Kerr said back in 2004. "I was thinking of the term Frenchman and Dutchman, and I had no idea it was used as a demeaning term in any way. I feel terrible about it, and I apologize to anybody who was offended."
The 7'2″ Dikembe Mutombo who played in the NBA from 1991 to 2009 says Yao forced him to look at the Chinese differently.
"Not everybody in China is short. It is like an education process that we are going through, the more we discover people, the more we learn about the culture, the language and their countries. And I think that is something Yao Ming is doing to all of us, especially the NBA players."
You can read about Yao's impact on Asian Americans on ESPN.
(AsAmNews is an all-volunteer effort of dedicated staff and interns. You can show your support by liking our Facebook page at  www.facebook.com/asamnews, following us on Twitter and sharing our stories.)