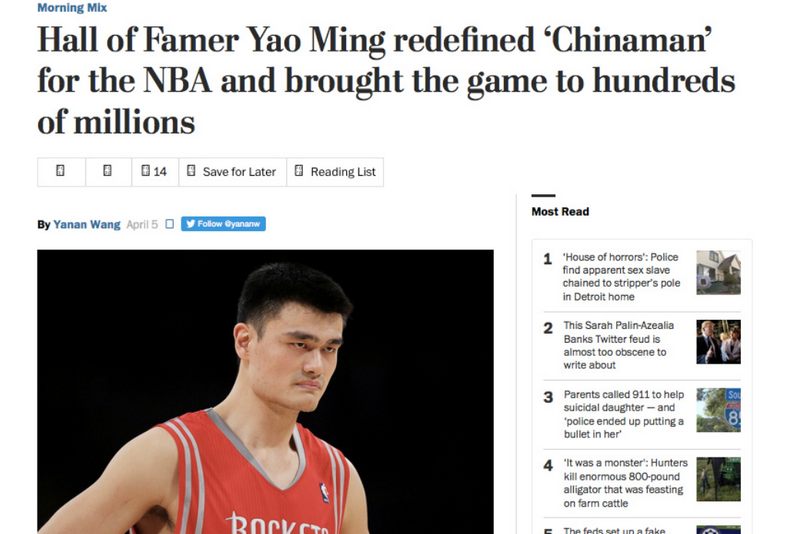 By Louis Chan
AsAmNews National Correspondent
The Asian American Journalists Association late Friday urged all media organizations to eliminate the use of the slur "chinaman" from its coverage.
The strongly worded advisory follows a headline in the Washington Post that proclaimed "Yao Ming redefined "chinaman" for the NBA and brought the game to hundreds of millions."
In response, AAJA said "chinaman" is a slur from 19th century America, specifically for Chinese workers who worked for low wages building the transcontinental railroad."
In a weakly worded explanation, the Post said:
 
"The story deals with the bigotry Yao Ming encountered and had to overcome. The headline was an effort to convey that, and the story also makes it clear that this is a derogatory term.

"During a Rockets game in 2004, former basketball player and TNT broadcaster Steve Kerr also referred to Yao as a "Chinaman," a derogatory term dating back to the mid-1800s, when Americans feared that the "Yellow Peril" would dominate the labor force. (Kerr later apologized.)

"In this case, the headline was modified to ensure clarity. Since there was no factual error, no correction was made."
No "factual error?" "Clarity?"
It was clarity that was necessitated over confusion of the use of a racially offensive word.
The fact the Post felt a need to change the headline to eliminate the use of the "C" word and that the lack of clarity involved such a volatile word was a major error, a huge blunder.
The attempt to justify that failure only magnifies the problem. The Washington Post's coverage of the Asian American Pacific Islander community is generally good. AsAmNews has linked to numerous stories from the Post we felt enhanced the public's understanding of the AAPI community.
However good that coverage has been, it doesn't give the Post creative license to use a word it undoubtedly knew was derogatory, offensive and racist.
As the usually over-cautious AAJA leadership put it "The Washington Post took a shot at a creative headline. Unfortunately it was an airball."
(AsAmNews is an all-volunteer effort of dedicated staff and interns. You can show your support by liking our Facebook page at  www.facebook.com/asamnews, following us on Twitter and sharing our stories.)