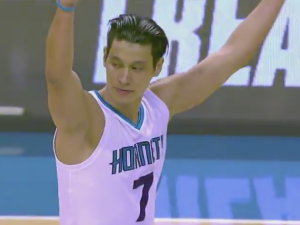 By Louis Chan
AsAmNews National Correspondent
Jeremy Lin scored a team high 25 points to lead the Charlotte Hornets to an easy 114 – 100 victory over the Boston Celtics.
He became the first player this season to rack up 25 points and come away with five steals in a game.
The win kept the Hornets in contention for a fourth seed in the Eastern Conference playoffs with the Celtics, Hornets and Miami Heat all bunched together in the standings.
Lin was the top scorer in the game and also added seven rebounds and five assists. He remains in serious contention for a Sixth Man of the Year award .
For the season, he is averaging 11.7 points and three assists per game in 26 minutes off the bench.
(AsAmNews is an all-volunteer effort of dedicated staff and interns. You can show your support by liking our Facebook page at  www.facebook.com/asamnews, following us on Twitter and sharing our stories.)