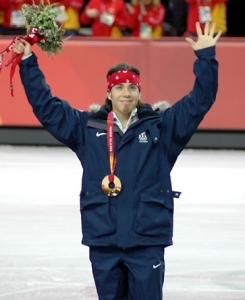 Speedskater and two-time Olympic gold medalist Apolo Ohno will be inducted into his sport's hall of fame next month, reports the Salt Lake Tribune.
The induction ceremony will be held May 13 at the Deer Valley's Snow Park Lodge in Utah.
During his illustrious career, Ohno won eight medals in all.
His Japanese born father Yuki Ohno could often be seen in the stands during Olympic telecasts rooting his son on. Ohno's parents divorced when he was an infant and his father raised him in Seattle.
Ohno won eight Olympic medals in all and totaled 12 U.S. National championships and 30 medals overall in short track competitions.
Since retiring from the sport, he has kept a public profile as an Olympic broadcaster for NBC and as a motivational speaker.

"It's an honor to be inducted into the US Speedskating Hall of Fame," Ohno said. "This incredible sport has taught me so much, and to be associated with a special group of legends like this is something that I will cherish for the rest of my life. I feel proud, blessed and humbled."

(AsAmNews is an all-volunteer effort of dedicated staff and interns. You can show your support by liking our Facebook page at  www.facebook.com/asamnews, following us on Twitter and sharing our stories.)