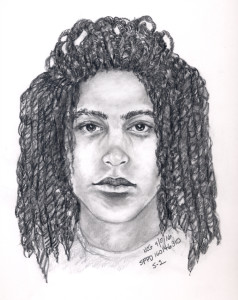 By Louis Chan
AsAmNews National Correspondent
Police in San Francisco have released sketches of two suspects in the robbery and murder of a Chinese British tourist in San Francisco's Japantown.
The murder happened on President's Day weekend on February 18. The victim, Paul Tam, was from Britain and was planning a move to the Bay Area.
The killer is described an adult male approximately 5'10" with a heavy build last seen wearing a dark hoodie and blue jeans.
His accomplice who helped him rob Tam of his bag is adult female approximately 5'4", small build with dreadlocks or braids.
Tam died of stab wounds to the head on March 24. Police say Tam ran into the street to escape the two suspects, but the male suspect chased him down, grabbed his bag and stabbed him in the head.
"I just thought it was frightful, that someone comes here on a holiday and it ends so tragically for them," said Matt Hannan of San Francisco told ABC7 News.
Police fear the suspects could strike again.
"He took a bag of items and killed someone for it. If he could do it to this person, he could do it to someone else," San Francisco Police Ofc. Carlos Manfredi said.
(AsAmNews is an all-volunteer effort of dedicated staff and interns. You can show your support by liking our Facebook page at  www.facebook.com/asamnews, following us on Twitter and sharing our stories.)