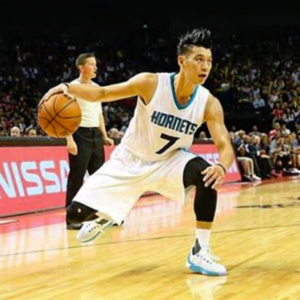 Jeremy Lin just gained a new fan who until a few days ago had no idea who he was.
Holland Christensen of Tennessee went to get a tattoo.
Don't asked me why, but she wanted a tattoo with Chinese writing on it and a friend gave her some Chinese characters and told her it meant something else.
It was actually the Chinese characters for Jeremy Lin's name.
Christensen then did what every kid seems to do these days, she put her misfortunes on social media, reported the Morning Ledger.
So I accidentally got Jeremy Lin's name tattooed on my ankle 😁 @hornets @JLin7 @NBA ill be at CHA cheering him on! pic.twitter.com/gartCniToI

— Holland Christensen (@hollyisyourstar) April 8, 2016

That caught the attention of Lin himself who then decided to put the identical Chinese characters on his own ankle using a marking pen.
 
A woman accidentally got Jeremy Lin's name tattooed on herself.

The Hornets guard responds:https://t.co/E6GPefxB2r pic.twitter.com/GMR1bDHIk2

— ESPN (@espn) April 13, 2016
Christensen is making the best of her misfortune. She plans to attend at least two upcoming Hornet playoff games and is hoping to meet her new best friend.
I will be at Games 3 and 4 in Charlotte (April 23 & 25) for the playoffs, hopefully I can meet @JLin7 and other @hornets fans 😀🏀✨

— Holland Christensen (@hollyisyourstar) April 14, 2016
(AsAmNews is an all-volunteer effort of dedicated staff and interns. You can show your support by liking our Facebook page at  www.facebook.com/asamnews, following us on Twitter and sharing our stories.)