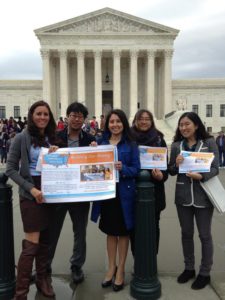 By Louis Chan
AsAmNews National Correspondent
Thousands of immigrants from across the country are expected to march in Washington, D.C. tomorrow in support of the Deferred Action for Parents of Americans and Lawful Permanent Residents.
The demonstration coincides with the start of oral arguments in the Supreme Court on the fate of the DAPA/DACA+ program announced by President Obama in 2014.
Among the groups to be represented at the rally are the MinKwon Center for Community Action and South Asian Americans Leading Together.
The immigration reform programs would offer temporary protection from deportation and work authorization to about five million undocumented immigrants, mostly parents. A Texas Federal District court judge filed an injunction in 2014 blocking the DAPA/DACA+ program from being implemented.
"I am confident we are in the right legally, we are in the right morally, and that the Supreme Court will ultimately uphold President Obama's program as a lawful exercise of executive discretion," said Rep Judy Chu, the chairwoman of the Congressional Asian Pacific American Caucus.
DAPA/DACA+ is an expansion  of the Deferred Action for Childhood Arrivals (DACA) program announced by President Obama in 2012 and allows undocumented immigrants who entered the country before their 16th birthday and before 2007 to receive a two-year work permit and be protected from deportation.



Supporters of DAPA/DACA+ have launched the hashtag #fightForFamilies and will be tweeting updates throughout the rally and the oral arguments in the supreme court.
Some are also adding an icon to their Facebook profiles to lend their support.
650 people have added our pledge symbol to their profiles! Join us & support immigration fairness: https://t.co/AsnShN12YO #FightForFamilies

— Define American (@DefineAmerican) April 13, 2016
Those opposed to DAPA/DACA+ are expected to keep a lower profile Monday and no known demonstrations are planned as of this writing. The Federation for American Immigration Reform has launched a petition drive against DAPA/DACA+ and plans to present it to the justices during their deliberation of the case.
"Congress didn't delegate to the president the discretion to allow millions of people here illegally to just stay here, work and get benefits," said FAIR's president, Dan Stein to the Wall Street Journal.  "We're trying to get people to raise hell."
With only eight members currently on the Supreme Court due to the recent death of Justice Antonin Scalia, Chief Justice John Roberts is thought to the swing vote on this case. The conservative justice has taken a hard line on lawsuits against the federal government filed by states.
(AsAmNews is an all-volunteer effort of dedicated staff and interns. You can show your support by liking our Facebook page at  www.facebook.com/asamnews, following us on Twitter and sharing our stories.)
~