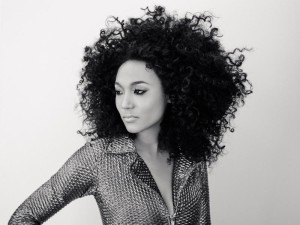 By Louis Chan
AsAmNews National Correspondent
Judith Hill has been touched by some of the world's greatest musical legends.
The late Prince produced her debut album Back in Time which was released last year and Hill was chosen to sing with Michael Jackson for his farewell This Is It concert tour before his death in 2009.
The songtress who is of Japanese American and African American descent tweeted this morning about her sense of loss and grief following the death of Prince who died at his home yesterday in Paisley Park, Minnesota.
Still waiting to wake up from this terrible nightmare. Can't believe this.

— Judith Hill (@Judith_Hill) April 22, 2016
I feel scared and alone. Can't deal with this.

— Judith Hill (@Judith_Hill) April 22, 2016
Hill is scheduled to perform next week at the Gathering of Nation's powwow in Albuquerque on April 28.
She talked about Prince's influence on her and her debut album in an interview published today by the Albuquerque Journal. The interview was likely conducted prior to Prince's passing.
"I had written some of these songs a long time ago and had been performing them for a while," she says. "Prince helped me give them a whole new makeover. He would say, 'You can make a stadium song. Picture yourself in a big stadium singing this."
"I want people to feel like they're listening to something that was done in the '70s," she says. "We recorded it all on analog, recorded to tape. Prince would tell me stories about his recording experiences. It was very cool to work with the legend."

Just last week Hill saw Prince perform in Atlanta.

Had a blast seeing @prince perform in Atlanta last night at the Fox theater! Insanely inspiring show!!!

— Judith Hill (@Judith_Hill) April 15, 2016
Last year Hill opened for Prince shortly after the release of her album.
Hill also performed with Prince at his Paisley Park home on April 19, 2015. Prince staged a surprised concert that day announcing it on Twitter.
Master Tesfatsion attended that concert and wrote about his experience in the Washington Post in a story published this morning. He wrote:
Once Prince and 3rdEyeGirl finished, some people left while others stuck around and kept dancing to a playlist Prince was blaring through the speakers. About 10 minutes later, there was a soundcheck in the NPG Music Club. The doors opened and the remaining fans rushed over to the other venue to see Judith Hill, who had just worked on an album with Prince, and her band perform. Unlike Prince and 3rdEyeGirl's rock-and-roll set, Hill's set was funky. She played some of her own music while covering classics like Steve Wonder's "Superstition" and Sly and the Family Stone's "Hot Fun in the Summertime" for about 45 minutes.
Once Hill finished, everyone thought the concert was over. It was well worth the $30 admission at this point… but Prince surprised us again. About two hundred people rushed back over to the soundstage to see Prince, 3rdEyeGirl, Hill and her band all on stage. For another 30 minutes, they had a jam session. Drums, guitars, bass, keyboard, horns: Every musical instrument one could ask for, and they all fed off one another and transitioned effortlessly into a cover of Sly's "Thank You (Falettinme Be Mice Elf Agin)" that blew us all away. Prince jumped from guitar to bass and even messed around with the keyboard for a bit. He displayed why he was an artist in the purest form, playing music that spanned four decades and included genres from rock and funk to R&B, all squeezed into a two-hour concert. Nobody else could do this.
(AsAmNews is an all-volunteer effort of dedicated staff and interns. You can show your support by liking our Facebook page at  www.facebook.com/asamnews, following us on Twitter and sharing our stories.)