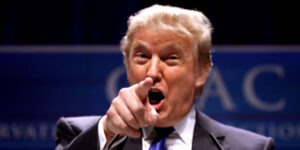 The chairman of Hillary Clinton's campaign for president blasted Republican frontrunner Donald Trump for mocking the accent of an Indian call center worker, reports the Indian Express.
"Donald Trump mocking Indian workers is just typical of his disrespect that he has shown to groups across the spectrum," said John Podesta, chairman of the Clinton Campaign. "He has run a campaign of bigotry and division. I think that's quite dangerous for the country when you think about the fact that you need friends, allies. The kind of campaign he is running breeds disrespect across the globe and breeds division and danger here at home."
Podesta made his comments after launching Indian Americans for Hillary. The launch coincidentally took place after Trump made his comments on Friday recalling his conversation with a call center worker from India.
One of the top fundraisers for Clinton who has raised more than $100,000 also commented on the controversy.
"When Donald Trump fakes the accent of an Indian at the help desk, it is demeaning and demonising to me personally," said Frank Islam who is part of the new Indian Americans for Hillary.
Islam also remarked on similar comments made by Republican Governor from Maine, Paul LePage about Indian American workers.
You can read about that in Indian Express.