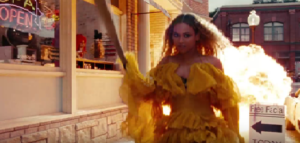 By Sid Sharma
The Cynical Desi
I'm not a huge Beyoncé fan, but for whatever reason I caught her hour long Lemonade music video on HBO. To be honest the art doesn't speak to me and I probably am the last person her marketing team thinks of as a potential customer. I will say that it's well shot.
But I have a deeper critique about Lemonade. Gossip sites are basically saying that the album and the song Sorry are a dig at Beyonce's husband Jay Z and alleged mistress Rachel Roy.
Queen Bey (I should be beaten for referring to Beyoncé as that, by the way) signed out "Becky with the good hair." According to gossip site Hollywood Life, this is Bey's private name for designer and businesswomen Roy.
So why should we care?  Roy is part Indian. Her father is Indian and her mother is Dutch.  Doesn't it seem like an odd insult to say someone has good hair?
I went digging around to see if there was some connection between Indian-ness and hair quality.  Sure enough the internet dredged up a stereotype that Indian women having good hair. Here's a Huffington Post on the topic.
Now it could be merely a work of art that channels the rage of a mistreated woman. Or there's something slightly racial about the insult. Authenticity is very important in highly racialized contexts.
Authentic clothes, authentic skin color and in this case authentic hair all matter.  But we should not fear multiracial identities. Referring to Roy in this way is a cheap shot and cheapens Beyonce's rage.
(AsAmNews is an all-volunteer effort of dedicated staff and interns. You can show your support by liking our Facebook page at  www.facebook.com/asamnews, following us on Twitter and sharing our stories).