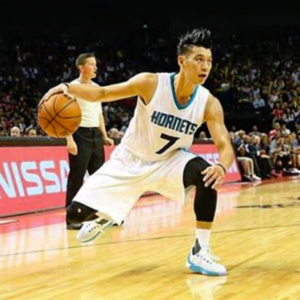 By Louis Chan
AsAmNews National Correspondent
Hornets point guards Kemba Walker and Jeremy Lin combined for 55 points to propel Charlotte to a 89 to 85 victory over the Miami Heat.
The best of seven first round playoff series is now even at two games a piece with each team winning on their home court.
Walker lead the Hornets with 34 points, a playoff career high for the veteran in his fourth season.
Lin shot 6 for 10 from the floor and at one point did the Michael Jordan shrug with the superstar and Hornets owner sitting at court side.
Check it out as Jordan looks on.
It was Lin's second good playoff game. He lead the Hornets Saturday by scoring 18 in the team's first playoff victory in 14 years.
After the game, the girl who accidentally got Lin's Chinese name tattooed on her got to meet her new friend.
It wasn't easy, but Holly Christensen was determined to make the best of the situation after she became a victim of a practical joke.
While hanging out at the Arena hoping to meet Lin she met some other famous people including Michael Jordan, Dikembe Mutombo and Kemba Walker.
I've even met Dikembe but STILL no Jeremy pic.twitter.com/1X1zpofr5a

— Holland Christensen (@hollyisyourstar) April 26, 2016
The rest is history
His friend Josh called me over, Jeremy got out of his car, and then it happened.

— Holland Christensen (@hollyisyourstar) April 26, 2016
This guy. The real hero. Thank you Josh, so much. @JWAFAN pic.twitter.com/n6OGLPmTsa

— Holland Christensen (@hollyisyourstar) April 26, 2016
The moment of meeting pic.twitter.com/oXt8EFPWZO

— Holland Christensen (@hollyisyourstar) April 26, 2016
I am have closure on my tattoo now. No regrets, just fun times with awesome people. I turned a mistake into a something good : )

— Holland Christensen (@hollyisyourstar) April 26, 2016


(AsAmNews is an all-volunteer effort of dedicated staff and interns. You can show your support by liking our Facebook page at  www.facebook.com/asamnews, following us on Twitter and sharing our stories)