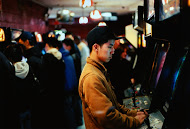 By Mandy Day
  The Lost Arcade made its West Coast debut on Saturday at the San Diego Asian Film Festival Spring Showcase presented by Pacific Arts Movement. Filmed over a number of years in New York City, the documentary follows the story of Manhattan's last traditional game arcade. Sponsored by the Asian Pacific American Coalition and San Diego Art house Movies, Pac Arts hosted the screening followed by an interview portion with filmmakers Kurt Vincent and Irene Chin.
Filmed primarily in the city's Chinatown, the film documents the final days of Chinatown Fair, one of the last bastions of the arcade gaming boom that began in the 1980s. Hosting some of the best game players in the world, Chinatown Fair became an iconic place for kids from all walks of life. The film focuses on the lives of some of the arcade's patrons who, in a sense, grew up in Chinatown Fair. Some went on to work there and move on to create their own gaming businesses once Chinatown Fair closed in 2011. Known for bringing together diverse communities of varying ethnic backgrounds, Chinatown Fair was the last remaining game arcade in New York City.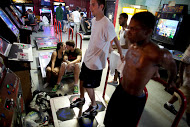 The explosion of at-home gaming has severely damaged the arcade industry. So much so that games once released strictly for arcades are now being released solely for home consoles. In an era where profit margins are slim for coin (and now card operated) games, the film represents a larger perspective on urban development. The demand for real estate in the country's largest cities have led to the downfall of family-owned businesses as rising rental costs force doors closed. According to Vincent, New York's Chinatowns are one of the last holdouts of gentrification since community members have fiercely defended their neighborhood from large scale redevelopment. In areas where real estate prices have skyrocketed, Chinatown has remained one of the last places where working class families can find affordable housing.
Once owned by Sam Palmer, an elderly Pakistani immigrant, the arcade became a home for many of New York's youth. Henry Cen, one of the world's best Street Fighter players according to director Vincent, grew up going to Chinatown Fair when it became his after school refuge from the icy New York winters. As a teenager, Cen was employed by Palmer and learned to repair video arcade games. Once Chinatown Fair closed, Cen opened Next Level Arcade in Brooklyn's Chinatown. Cen opened his business in Brooklyn because rents were more affordable, and ironically, may have to move due to increasing costs caused by redevelopment according to Vincent and writer-producer Irene Chin. Both Palmer and Cen were featured prominently in the film along with several other important figures in Chinatown Fair's history.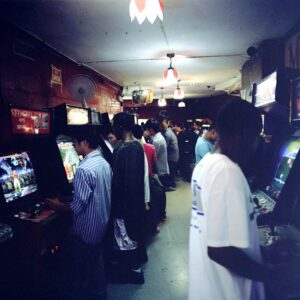 The film also chronicled the reopening of Chinatown Fair under new ownership. The space was transformed into an arcade in the image of one often seen at large chain amusement businesses like Dave and Busters or Boomer's. Die-hard gamers were devastated by the changes with the traditional cabinet games being replaced by air hockey, ticket redemption games, and a more "family friendly" environment. Gone was the gritty red paint, often graffitied by regulars, and wall-to-wall fighting and rhythm games. After undergoing some adjustments, the new Chinatown Fair has become a gathering place for rhythm gamers who specialize in games like Dance Dance Revolution and remains in business today.
As for Next Level Arcade owner, Henry Cen, his business is largely based on consoles like Playstation and Xbox. Primarily targeting the "fighting" gamers, weekly tournaments are streamed online and provide a major revenue stream that keeps the business afloat. Card games like Magic are also growing in popularity at the Brooklyn business helping Cen provide a place for players to gather and interact.
The Lost Arcade provides a glimpse into the world many are unfamiliar with. While roughly shot at times, it's fitting for a documentary primarily spent covering the challenging lives of its subjects, including the arcade itself. Unlike many documentaries filmed in the twenty-first century, the film lacks the flashiness that so often derails bigger budget documentaries. It's raw and embraces the energy of the people who loved Chinatown Fair so dearly. Scheduled for release on digital platforms later this year, The Lost Arcade is popping up at film festivals across the country. More information on future showings and release information can be found here.
(AsAmNews is an all-volunteer effort of dedicated staff and interns. You can show your support by liking our Facebook page at  www.facebook.com/asamnews, following us on Twitter and sharing our stories.)