By Louis Chan
AsAmNews National Correspondent
From Portsmouth Square in San Francisco Chinatown to the parks throughout China, practitioners of Tai Chi fascinate tourists and locals alike.
One of the men credited with bringing tai chi to the west is Cheng Man-Ching who is known affectionately by his many students as The Professor or Professor Cheng.
His story is documented in a new film by Barry Strugatz The Professor: Tai Chi's Journey West. The film makes its world debut tomorrow in Los Angeles at the Music Hall for what is scheduled for a one week run.
Cheng bucked the sentiments of many in New York Chinatown when he began teaching his form of martial arts to "outsiders" in the 60's.
It's the same criticism Bruce Lee faced when he introduced martial arts to non-Asians beginning in 1959 in Seattle and later in Oakland.
It's appropriate that a brief interview with Lee kicks off the documentary.
"It's a kind of a slow form of exercise which is called tai chi ch'uan," said Lee as he begins to demonstrate. "Hand wise, it's very slow and you push it all. All the time keeping the continuity going, bending, stretching, everything. You just keep it moving…you have to just keep on flowing"
Whether intentional or by accident, The Professor: Tai Chi's Journey West takes on the easy flow of the martial arts form itself.
Historical footage of Cheng is liberally sprinkled throughout the film as are interviews with his many disciples who were with him in the early days of the 60s and continue to carry on The Professor's legacy decades after his death in 1975.
"I've studied Tai Chi for many years," said Strugatz to AsAmNews. "All my teachers have been students of Cheng Man-Ching or in his direct lineage. I would hear about what an amazing and skillful person he was. I approached my teacher Ken Van Sickle who is also a great cinematographer and was a senior student and main photographer of Cheng's New York school. I proposed we do a documentary about Cheng through the words of his New York students and his children. He agreed and we started shooting interviews."
The archival footage and photographs came from many of his students. Strugatz team also found rare footage on the internet include the Cheng family going through their family photo albums.
Cheng's students have stayed in touch, making it easy to track them down as an interview with one student lead to another.
"He is considered one of the great Tai Chi masters of modern times. He was a pioneer, bringing Tai Chi and traditional Chinese culture to the West in the 1960's, said Strugatz.
"Cheng was unique, besides being a martial artist, he was a painter, a poet, a scholar and a physician. He came from a very conservative, traditional background, but many of his students were young hippies and radicals. Cheng taught a healthy, ethical, joyful, peaceful way of life. He deeply influenced his American students and they in turn influenced him. The Professor is the story of an extraordinary man who bridged differences of East and West, left and right, ancient and modern."
The reverence Cheng's students even have for him today is evident.  Many of them went on to teach tai chi. The appreciation they have for Cheng sharing his culture with them is immense.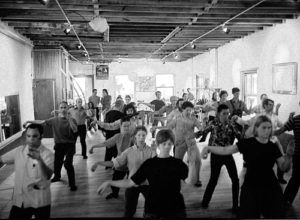 "I started knocking on doors and I walked down Canal Street and there was a sign that said Tai Chi Association and I went upstairs knocked on the door," said Bill Phillips, one of Cheng's early students. "A Chinese man greeted me. I asked if they taught tai chi and if this is where Professor Cheng Man-Ching was and they said 'No, go away." Then a little old man came up, The Professor, and scolded the man in Chinese and then invited me to stay."
Cheng, according to Strugatz, thought tai chi could help everyone and was dedicated to spreading it around the world. He was born in China and moved from Taiwan to New York when he was 62 years old.
"I hope The Professor can introduce people to the depth and value of Tai Chi as a martial art, as a very beneficial physical exercise and as a spiritual practice," said Strugatz. " It also shows that Tai Chi is fun. I hope it can introduce curious people to Tai Chi but also deepen the understanding of those who already practice."
After its Los Angeles run, The Professor: Tai Chi's Journey West moves to New York on June 9 to the Museum of the Moving Image.

(AsAmNews is an all-volunteer effort of dedicated staff and interns. You can show your support by liking our Facebook page at  www.facebook.com/asamnews, following us on Twitter and sharing our stories.)