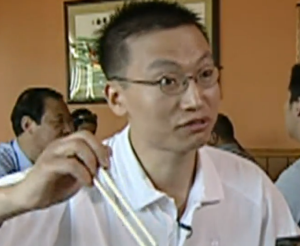 Celebrity chef Tony Hu who has restaurants in Chicago, Connecticut and Las Vegas has been charged with federal tax evasion, reports WLS.
The man known as the mayor of Chicago's Chinatown is accused of hiding cash receipts and evading state taxes.
The charges follow federal raids on his restaurants in October of 2014.
The eight page complaint alleges that from January 2010 to September 2014, Hu "knowingly and intentionally devised  and participated in a scheme to defraud the Illinois Department of Revenue."  The complaint says he collected state tax from customers, but hid a portion of that money. He's also accused of modifying sales records to conceal his income.
It has not been revealed how much Hu is accused of concealing from tax authorities.
(AsAmNews is an all-volunteer effort of dedicated staff and interns. You can show your support by liking our Facebook page at  www.facebook.com/asamnews, following us on Twitter, sharing our stories, intern or join our staff. ).