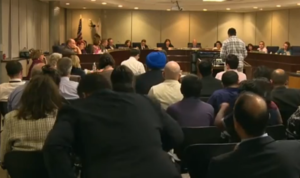 UPDATE: Early Friday morning after most people had gone to sleep, the California Instructional Quality Commission rejected a proposal to replace the word "India" with "South Asia" in history books used in California public schools, reports First Post.

The decision is a victory for Hindu groups who want to ensure India history is adequately represented.

The group South Asian Histories For All (SAHFA)saw this as an attempt to sanitize India's patriarchal, casteist past and to downplay the contributions of non-Hindus.

A move to eliminate the use of the term "Dalit" was also rejected. The term refers to the self-chosen political name of castes in the South Asian Association of Regional Cooperation or SAARC, a regional intergovernmental organization in South Asia.

ORIGINAL STORY:
Controversial changes proposed for California history books that have divided the South Asian American community are a step closer to approval.
KCRA reports that the Instructional Quality Commission approved the changes and it now moves to the State Board of Education for final approval.
The proposal includes substitution of the word "India" with "South Asia." The change has been particularly opposed by members of the Hindu American community.
"There's certain aspects that they're trying to change, which is I feel in a way denying aspects of our culture," said Gayatri Khanna who moved to the U.S. from Mubai 15 years ago.

But others say South Asia is much more broad than just India and to exclude Pakistan and Nepal is not accurate.

"The number one thing is fairness with other cultures," said Sandeep Dedge, a Hindu Education Foundation Coordinator.

Other suggested changes include adding the Filipino contributions to the U.S. during World War II and a section about Asian comfort women who were taken as sex slaves by the Japanese military.

AsAmNews is an all-volunteer effort of dedicated staff and interns. You can show your support by liking our Facebook page at  www.facebook.com/asamnews, following us on Twitter, sharing our stories, interning or joining our staff.