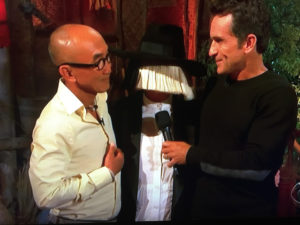 By Ed Diokno

As a fan of Survivor, I was rooting for Vietnamese American contestant Tai Trang to win the million dollar prize of the reality show. He made it to the final three but failed to win a single vote from the jury of deposed contestants.
Trang, a 51-year-old gardener  from San Francisco, was a fan-favorite on this season of Survivor, which had its finale last Wednesday (May 28).  As host Jeff Probst said, Trang was one of the most unique individuals they ever had on the show.
While filming the show in Cambodia, the Buddhist said he had respect for all living things and somehow talked his hungry castmates from eating a pet chicken, that he named Mark.
In the end, though, the title of Sole Survivor went to Michele Fitzgerald, an underdog contestant with a great social game.
While interviewing Trang, a voice shouted from the audience. Prost introduced pop singer Sia, whose trademark is wearing a wig backwards so it covers her face. Apparently, she was rooting for Trang too and loved his devotion to living things. She gave him $50,000 and another $50,000 to donate to an animal charity of his choice.
The surprised Trang said, "I'm speechless," as he hugged Sia who sounded just as excited meeting Trang – it was hard to tell since her face was hidden behind her blond wig.