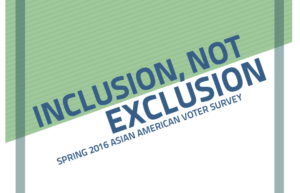 A new survey released today by Asian Americans Advancing Justice indicates Asian Americans are taking notice of the Islamophobic and xenophobic rhetoric dominating the presidential race.
The poll of 1,212 registered voters was conducted in English, Cantonese, Mandarin, Korean, and Vietnamese between April 11 and May 17 of this year by landline and cellphone.
Voters were asked "if a political candidate expressed strongly anti-immigration views, but you agreed with him or her on other issues, would you still vote for that candidate or would you vote for someone else?"
40 percent of those surveyed said they would not vote for a candidate who spouted anti-immigrant rhetoric. 35% said they still would with the rest either undecided or declined to state.
"The survey shows that Asian Americans are paying close attention to political discourse, and will not vote for a candidate expressing exclusionary rhetoric that only serves to separate communities. Anti-immigrant and anti-Muslim language will not win over Asian American voters," said Mee Moua, president and executive director of Asian Americans Advancing Justice | AAJC. "Candidates on both sides of the aisle need to pay attention to our community," she added, "but our survey continues to show that the majority of Asian American voters have not been contacted by political parties in the past year."
The rhetoric may help explain the sharp increase of Asian Americans identifying as Democrat. The survey found a 12 point increase from 2012 to 2016.
Hillary Clinton has a 62% favorability rating among Asian American voters compared to 48% for Bernie Sanders and 19% for Donald Trump.
Young Asian Americans are a key demographic to watch with income inequality ranking high among their concerns. They also had the strongest reaction against exclusionary anti-immigration rhethoric.
"The Republican National Committee's Growth and Opportunity Project signaled an interest in outreach to Asian American communities and may have partly succeeded in 2014," said Karthick Ramakrishnan, professor at University of California Riverside and director of AAPI Data. "But, harsh rhetoric by several candidates in 2015 and 2016 seems to have eroded those again and, indeed, might have made the situation even worse."
Overall for Asian Americans, the Democrats have the advantage on the issues of the environment, racial profiling, education, social security and immigration reform.
Republicans have the advantage on terrorism.
Asian American voter registration has increased 600,000 per presidential election cycle. The number of congressional candidates from the Asian American community increased from 10 in 2010 to 40 in 2016.
"Voter outreach and education by nonpartisan organizations remains critical and 2016 is poised to be the largest mobilization effort we have seen for the AAPI community," said Christine Chen, executive director of APIAVote. "The survey shows key problem spots where Asian American registered voters feel that the political system is not responsive to their needs. Greater investments are needed from the campaigns and parties."
You can read the full report here.
AsAmNews is an all-volunteer effort of dedicated staff and interns. You can show your support by liking our Facebook page at  www.facebook.com/asamnews, following us on Twitter, sharing our stories, interning or joining our staff.