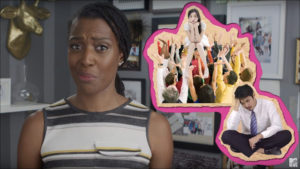 By Ed Diokno
It's all about sex and power.
The stereotypes that haunt Asian American men and women is  getting talked about outside of our community and it's about time.
Franchesca Ramsey is the host of MTV's weekly video series, Decoded, where she tackles race, taboos and pop culture. This week, in her typical fashion, she didn't hold back in addressing stereotypes about Asian men and women.
"If you take a look at popular culture there's a pretty strange divide between Asian women and Asian men. Asian women are adored and fetishized by men of many ethnicities, while Asian men are rarely seen as sex symbols of any kind. Why? Well these stereotypes don't come from nowhere, they actually evolved from a long and twisted history of war, trade, and persecution of American citizens," reads the program notes.
Asian Americans are familiar with the topic but for non-Asians, it may be news to them. It's not a case of airing our dirty laundry, it's a case of airing the dirty laundry of the people who prefer to perpetuate the stereotypes. That's what Ramsey and MTV hope to do by shedding light on why these images exist.
We know that any discussion of these stereotypes is more complex than a 6-minute episode can expect to show – but for those coming late to the conversation, it's a good primer.
MTV doesn't have the influence that it used to have when it was first introduced, but the network has a young audience with median age of 21 years and around 87 percent of MTV viewers are in the 18-49 demographic – in other words, people who will be running the country the rest of this century.
The network has been discussing the issue of race to this age group for the last few years in formats that get people to thinking about it, and for a great number of people, (especially Euro Americans) race is not something they usually think about.
Last year MTV produced the documentary White People confronting young people about race. MTV's efforts with White People and Decoded to tackle one of this country's most divisive issues may not change the world, but it might get a few people to think about topics that people of color think about every day. Getting people to see the world from a new perspective encourages empathy and understanding.
"Here's the thing: Institutionalized racism fuels America, oftentimes in ways that you might not even realize. And because we live in a world that continues to reinforce outdated and harmful sexual stereotypes, it's no wonder that some people start to believe them," Ramsey said in conclusion.
The world is not going to change by legislation or some cataclysmic event that turns everything upside down. The way this country changes its attitudes on race is one mind at a time.