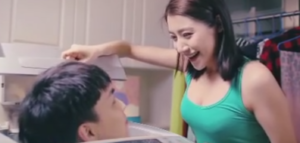 A Chinese company has apologized for a commercial deemed racist both inside and outside of China, reports Quartz.
The ad showed an attractive Chinese woman rebuffing the advances of a Black man by stuffing him in a washing machine, throwing Qiaobi detergent in, and then smiling when the Black man emerged as a handsome Chinese man.
Qiaibi has since pulled the ad and issued the following apology.
We have no intentions to discriminate against people of color… Ethnic discrimination is something we strongly reject and condemn.
We express regret over the controversy the ad has created and do not intend to shirk responsibility. We have already stopped the ad's circulation and have canceled several online streaming links. We hope that internet users and the media will cease sharing the video.
The advertisement and the surrounding controversy have hurt people of African descent. We express our apologies, and also sincerely hope internet users and media won't over analyze the situation.
The self-inflicted damage the company suffered may be hard to overcome.
Many on social media in China continue to condemn the ad while others are mad the ad was pulled.
AsAmNews is an all-volunteer effort of dedicated staff and interns. You can show your support by liking our Facebook page at  www.facebook.com/asamnews, following us on Twitter, sharing our stories, interning or joining our staff.