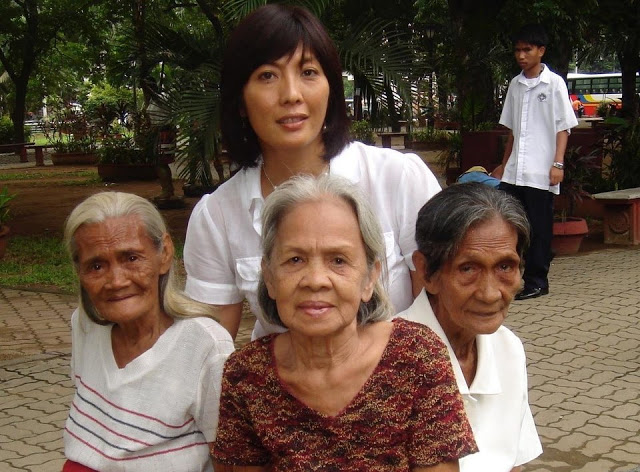 By Ed Diokno
The existence of the "comfort women" of Korea and China came to light to Americans in the last couple of years, but the horrible acts committed by men during wartime was not limited to those countries. The atrocities against women were done throughout Asia. The little known story of the Filipino lolas (grandmothers) is waiting to be told.
M. Evelina Galang is one of those story tellers. It has taken the writer, who is also a creative writing instructor at the University of Miami, almost 20 years to chronicle one of the Philippines' greatest traumas. It's the story of how women finally confronted their nightmare after years of shame and silence; a testament to their courage and their long-buried grief.
In her unpublished manuscript "Lolas' House: Survivors of Wartime Rape Camps," Galang tells the often overlooked story of the hundreds of Filipina women who were forced into sexual slavery by the Japanese military during World War II.
A moving article about Galang, a Filipino American raised in the American Midwest, and the Filipino comfort women
,
 all who are now in their 70s and 80s, was printed in the
Huffington Post
May 18.
"These 'comfort women' were mostly 13, 14, 15 years old. They weren't really women, they were girls," Galang said of the victims, who are now so old they're respectfully referred to as "Lolas," the Tagalog word for grannies. "They were forced to do labor and raped up to 20, 30 times a day, every single day. The tragedy is colossal."
"The 'comfort woman' issue goes beyond a history lesson, but is in fact an extension of our conversation about women and their bodies today," Galang said. "This story is happening now. It's happening in part because we have chosen not to hear the grandmothers. The Lolas' stories, their experiences in wartime rape camps, and their fight for justice is a legacy to all women. What happened to them is happening now to women in Syria, in Bosnia, in the Congo, and on college campuses in the United States."
"It seems to me that we have a culture where raping women and girls is not taken seriously," she added. "We, as a global culture, need to stand up and say 'No. Stop. Not right.' Until we do, this history repeats itself. We need to document their stories. We need to understand their place in history. We need to make sure it never happens again."
"Lolas' House: Survivors of Wartime Rape Camps" is under consideration with a U.S. publisher. Find out more about the Lolas and other books by Galang at the author's blog and website.
Click here to read the entire Huffington article, "The Harrowing Story of Filipina Women Enslaved in Japan's Wartime Rape Camps."