By Shirley N Lew
AsAmNews NY Correspondent
It was her desire for justice that made Peiyin Shih do what she did to set an example for her son and nanny when she was at the Forest Hills, Queens Dunkin Donuts.
In our exclusive English language interview with Shih about her racist incident with an employee who mocked her Chinese accent, she said she went public to not allow this to happen to any other Asians in the future. Shih identified the employee as Yaibur Rahman, based on the name on his employee name tag.
We also spoke exclusively with Cain Management that owns that Dunkin Donuts.
Shih was so upset at what happened, her Forest Hills Parent Facebook group page that she is a member of encouraged her to post her ordeal on the Dunkin Donut's Facebook page to get a response. That post now has over 11,000 shares.  Many supported her and blasted Rahman for his racist behavior. Many wanted him fired because he taunted Shih on her accent when she couldn't pronounce "glazed chocolate donut" clearly. He even asked if she could read English. A customer upset that Shih was holding up the line went as far as even suggesting that Shih might be an illegal immigrant. Others began posting negative comments and reviews on their Yelp page in support of Shih.
"What happened at the Dunkin Donuts?" I asked Shih.
"I just wanted to order something. I don't really go to Dunkin Donuts often, so I don't know the name of the donut. So I took a look and told Rahman, 'I want to have that one,' and I said, 'glazed chocolate donut.' He said, 'What?! What?! What are you saying?, but he didn't understand what I said because I probably pronounced it wrong," Shih said in our telephone interview.
She told Rahman,  "from the top," telling him where to locate the donut, but Rahman told her, "You have to say the whole name in order to order."
Shih reacted, "Oh my god, are you kidding me?" then asked for the store manager, but was told the manager was not at the store because of the holiday.
I don't come to Dunkin Donuts often, but I know employees do not say that," she told me.
My hand was shaking, but I was so brave. I don't usually argue.
When Shih decided to video the incident, a customer behind her got irate.  She said she was able to capture him on video.
"Because I was telling the staff to get the manager, this guy was shouting at me, "I am going to take your phone and throw it out the window.  You can't do this because I can't order!' He then said the F word, called me a bitch and told me to get out of here," she explained.
Shih decided to call the police while still at Dunkin Donuts on the harassment and discrimination she was experiencing, but the male customer also called the police. She said she heard him say, "This is just a Chinese lady who complained about the attitude of the staff in Dunkin Donuts. It's nothing. You don't have to come."
The customer eventually left the store.
Afterwards, Shih told me she went to the police department about the incident, but was told they could not help her. They suggested she called Dunkin Donuts headquarters, but ended up filing an online feedback form of what happened since there was no one to take her call on the holiday.
I told Shih earlier that I spoke to Shaun Cain of Cain Management who said that Rahman was fired.
"Did you want Rahman fired?" I asked Shih.
"No, I did not want him fired. I just wanted him to apologize, but Mr. Cain said that because of what happened, they had to let him go."
"Do you plan on going back to Dunkin Donuts in the future?"
With some hesitation, Shih said, "I used to go there more often, just for coffee, I never order the donuts. I will still go to Dunkin Donuts, but not at that location. If they improve maybe I would."
Cain said, "I got emails, saw it on social media and received a complaint," he explained to me on how he learned of the incident.
"How will you prevent this from happening in your store again?" I asked him.
"We will have more sensitivity training on understanding cultural differences, respect for diversity and ethnicity. We never had an incident like this happen. We don't tolerate this at my company by any means. We will have a meeting with the managers next week, " Cain said.
How did you reach out to the customer and how was this resolved?
Cain said, "I spoke to the customer, gave her a gift card and she was thankful.
Shih told me she will be receiving the $100 gift card in the mail.
"I told Mr. Cain it is not my purpose to get a gift card. I wanted justice. I want people to speak up for their rights. It's because I was with my nanny and son that I wanted to set a good example. I wanted to show them that if this happens to you, you got to do this. You don't walk away and let this happen again in the future. I don't care about the gift card, it's about justice. Asian people always 'take it'. We don't speak English, we're immigrants. Even if we're born here, we are taught to not argue and let it go, but if you don't stand up for your rights, you're gonna lose it for other people," she expressed.
Two Facebook users that were upset over the incident took it upon themselves to visit the Dunkin Donuts separately before our story was published to see if  Rahman was fired or not. One of them did not see him in the store, but the other one who requested to speak to a manager was told Rahman was fired.
Earlier today I was able to capture screen shots of some of the negative comments on Yelp. I returned later in the evening to see if any new reviews were posted. But, at 7:50pm there was a notification across the Yelp screen that said the page was in "Active Clean-Up Alert."  And across the top highlighted in red, it read, "This business is being monitored by Yelp's Support team for content related to media reports."   Hmm, interesting.  Are they wiping the slate clean for that Dunkin Donuts?
Click on the photos for a larger view.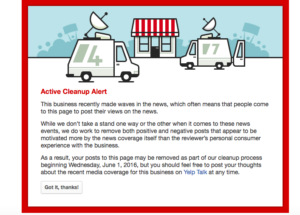 "People think they can bully you, this time and the next time, then it will become a vicious cycle. I don't want this to happen again, " Shih said.
Shih stood up against racism and won. To her, justice was served.
What would you have done if this happened to you?
Are you satisfied on how this was resolved?  
What would you liked to have done?
Share your thoughts.
AsAmNews is an all-volunteer effort of dedicated staff and interns. You can show your support by liking our Facebook page at  www.facebook.com/asamnews, following us on Twitter, sharing our stories, interning or joining our staff.