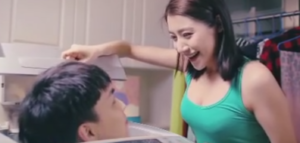 (Note from the Editor: The following letter to the editor was sent to the Root and shared with AsAmNews in response to two recent articles about the Qiobi laundry detergent commercial recently published by Root)
By Melissa M
In response to Yesha Callahan's two articles: Watch: Commercial for Detergent Aired on Chinese TV Shows Just How 'Dirty' Racism Can Be  and "Chinese Company Apologizes for Racist Detergent Commercial. My hope is that if you are truly open lively discussions, you will post this response to Ms. Yesha Callahan.

As I sit here prepared to write this response to Yesha Callahan articles, I am trying to find the "politically correct" words to describe how I am feeling but if I am going to be honest, I am not really a politically correct type of person and that's why it actually takes a lot to offend me. Most of the time, I can laugh things off to pure stupidity.  However, something in these articles really pushed a button in me that I can't seem  reset.  It could be the callousness of your author or the lack of apathy in the pieces she wrote that made so emotionally aroused that I felt compelled to respond.
So let me first begin by telling you who I am.  I am a Cambodian American woman.  My family came to the U.S. in the early 80's in order to escape a mass genocide within our country after the Vietnam war.  Over a thousand years of history and 1.5 million people died because one man and his followers decided the Cambodian way of life had become too westernized for his liking.  Pol Pot wanted to socially engineer a classless society based around agriculture.  Where everyone was truly equal in every way.  In the process, he destroyed any and everything that stopped him from reaching his goals, he pitted rich against poor, city folks against country folks, adults against children, neighbor against neighbor, and, worst of all, child against parents.  Just take a moment and think about your son or daughter holding an AK-47 against your head or against his aunts or uncles head.  The first thought that would come to most people's mind is "My child would never do that,"  but under the right circumstances, anything can happen.
Whether a child or adult, people absorb the information like sponges.  Unfortunately, most people absorb only the information that loudest and most prominent while reflecting all other noises from their ears.  As a result of this, you have the "jump on the bandwagon" effect.  Pol Pot capitalized on this.  He told the children of Cambodia it was the Khmer Rouge that would love and protect them.  Their parents hated them.  Just to give you a general idea of the propaganda that was preached – these are all from Pol Pot's Little Red Book:
"He who protests is an enemy; he who opposes is a corpse"
"If someone is very hungry, the Angkar will take him where he will be stuffed with food"
"The Angkar tenderly looks after you all, brothers and sisters, mothers and fathers"
Messages like these were played over loud speakers and taught to children in "re-education classes".  What does any of this have to do with Ms. Callahan's article you may ask.  Well, it's pretty simple.  Pol Pot used a war tactic known by most western society. . . Divide and Conquer.  By pitting people against each other and by making himself and the Khmer Rouge into "saviors", he ensured the people of Cambodia would never unite against him.
Over the last few years, I have seen the same thing happening in the U.S. although not as extreme and a different end result is wanted.  But the same tactics are being used, Divide and Conquer.  Some, like Ms. Callahan, are adding fuel to the flame whether consciously or not.
In her first article, "Watch: Commercial for Detergent Aired on Chinese TV Shows Just How 'Dirty' Racism Can Be, she makes mention of the Chinese only in the title.  The rest of the article generalizes the Asian Community.  The first paragraph in her article reads as such, "If  you needed an example of how deep-seated racism is in Asian culture, look no further than this commercial that aired on Chinese TV for Qiaobi-brand laundry detergent."  Apparently, because one company in China created a commercial that has been deemed racist, racism is "deep-seated" within the Asian Culture.  Under that same logic, if Tide put out the commercial, every single person on the North American continent no matter what color, creed, or nationality should be deemed a racist.  Oh wait . . . this has happened with American commercials.  Prime example, Popchips, Ashton Kutcher, and "brown face".

Yet when that commercial was put on YouTube, there was no outcry that all North Americans were racists by the Indians.  The blame was put solely on the company itself.
When American Comedians make fun of the Asian culture, the traditions, the lifestyle, the way we speak, the way we communicate, you know like those nail shop parodies, do Asians put out articles on how deep-seated racism is in North Americans towards Asians.  I haven't seen any.
Yet, when one Chinese company creates a commercial that is deemed racists, the whole of Asia, a continent of 4.7 billion people, have to take the slack for the commercial.
Ms. Callahan then writes this statement "Just as racism isn't going anywhere in the U.S., it's not leaving Asian countries anytime soon. If you take a look at ads featured in those countries, you'll see everything from products that promise you whiter skin to blatantly racist overtones like the one above, as well as the mocking of black people."
This is truly a bold statement on her part since I am sure she has visited all 48 countries in Asia, went to all of their stores, and watched all of the commercials and saw how the "blatantly racist overtones" because that is the only possible way she could write such a statement as if it is a fact.  As a Cambodian, I have not witnessed this in my country.  They are usually more worried about the civil rights violations, feeding their family, and people dying over border disputes than making their dark skin whiter.  According to Ms. Callahan's statement, however, she has been to Cambodia and experience racism towards "blacks" in our community.
Its actually ironic.  With her article, Ms. Callahan was trying to make a point about a commercial she deemed racist and, in doing so, became the very thing she was writing against.
In her next article, "Chinese Company Apologizes for Racist Detergent Commercial, she criticizes the company for their so called apology which we all know wasn't an actual apology because the company could honestly care less if someone in America is offended by their commercial or not.  Truth is they probably created the commercial to get a reaction and Ms. Callahan just gave their company a whole bunch of free publicity by writing not one but two articles mentioning their company by name.

In her second article, Ms. Callahan writes, "With comments ranging from people (well, actually, only, like, two) calling me racist," and "So for those in the cheap seats with throttled Wi-Fi, let me explain this as simply as possible: There are racist Koreans, Chinese, Asians, East Indians, Japanese and etc." One of those two people was me.  She still didn't get it.  She is writing about some else's half-a**ed apology for creating something that is offensive while still being callous towards the Asian community.  I didn't realize Asians had their own country along with the Koreans, Chinese, East Indians, Japanese, and etc.  I am curious though where the country of Asia and Etc. are.  My educated assumption would be that Ms. Callahan has had so little contact with Asian Community that those are the only 4 countries she knows of so to make the statements she did in her articles are beyond me.  What she did was actually make generalized assumptions based on very little interaction which make them racists statements.
There are over 17 million Asians living in America.  The one commonality between all of the Asians communities I have come into contact with is a strong foundation built around tradition and respect – I find that same foundation in many African cultures.  You'd be surprised about the similarities between many African cultures and Asian cultures.  United, along with all other minorities in America, we would be a force to reckon a with, a force the American government does not want to even contemplate.  Together, we can actually force change, we can force the American government to succumb to our demands, to finally put our needs above their own wants and desires.
The American government does not want this to happen so there are things purposefully done to keep us divided.  People are used as puppets, people are taught misinformation and then the information is spread to the masses with the ultimate goal of dividing. Unfortunately, as a stated above, no matter what color, creed, or nationality you are, people are quick to jump on that division bandwagon and continue to divide a nation that should be united.  This is my major issue with Ms. Callahan's articles along with the racists undertones of her statements.  You see this from the Facebook comments, the them versus us mentality, the assumptions made, the hateful comments.  It is truly sad that these articles which was supposed to be about one company in China has created such turmoil because of how Ms. Callahan chose to make bold and assumptive statements about the Asian culture then others decided to jump on that bandwagon.  It honestly just needs to stop.
By the way Ms. Yesha Callahan, the Asian Community is still waiting for your public apology but I highly doubt that's coming any time soon because you can't see that some Black people can be as racist as some in any other culture out there.  Hopefully you will open your eyes to that before your next article but you may need to come back to these cheap seats to get a broader view of the world.
Melissa M.
AsAmNews is an all-volunteer effort of dedicated staff and interns. You can show your support by liking our Facebook page at  www.facebook.com/asamnews, following us on Twitter, sharing our stories, interning or joining our staff.