By Ed Diokno
Asian Americans are used to being on the fringe, inconsequential, ignored or rendered invisible. It's not a position that we like — it's just the way it is. That's why I named my blog Views From the Edge.
What's exciting, though, is that we may be in the throes of a change that may alter the way the AAPI community is viewed by political insiders. Nowhere is the shift into the spotlight more evident than in the California primary, which is happening June 7 and will continue through the November elections.
On the eve of the California primary, polls show Hillary Clinton leading Democratic rival Bernie Sanders by a mere 2 percentage points – statistically, a dead heat. One poll shows Sanders ahead by one percentage point.
Donald Trump has his supporters among the AAPI community as well but a report from Asian Americans Advancing Justice found that most AAPI voters have moved from the "declined to state" category – a growing segment of the Asian American voters – towards the Democrats during this presidential campaign because of the hateful anti-immigrant – and frankly, racist- rhetoric coming from Trump, the GOP's presumptive nominee.
RELATED: Hateful rhetoric dries AAPI voters to the Democrats
An April survey by the non-partisan Asian American Pacific Islander DATA of all Democratic and Republican candidates found Clinton the first choice of 33 percent of likely Asian voters in California and Sanders second at 21 percent.
RELATED: AAPI voters lead towards Democrats
"If Hillary Clinton barely wins California, the Asian American community will be critical to that victory," said Karthick Ramakrishnan, a professor of politics at UC Riverside who helped oversee the poll.
California has the most Asian Americans of any state in the country – a little over 6.1 milliion. AAPI make up between 12 to 15 percent of the electorate depending on which polls you're reading.
"With our growing numbers, our political influence correspondingly increases, but it is up to our community to show the political establishment that we can deliver at the ballot box," California state treasurer John Chiang said in the statement sent to The Daily Caller.
Days before the primary, Hillary Clinton received the endorsements of two key Asian American organizations: the fledgling AAPI Victory Fund and the Congressional Asian Pacific American Caucus Leadership PAC, the latter including representatives from California.
In a press release, the AAPI Victory Fund announced its rejection of the xenophobia and anti-Muslim rhetoric embraced by the presumptive Republican nominee.
This is the Victory Fund's first endorsement and it will ensure that Asian Americans and Pacific Islander (AAPI) voters play a pivotal role in securing Secretary Clinton's victory in the California presidential primary.
"We repudiate the racial, ethnic and religious prejudices espoused by the presumptive Republican nominee. By mobilizing the AAPI electorate across the state on June 7th, we will ensure Secretary's Clinton victory in California,"  said Dilawar Syed, co-founder and vice chair of the AAPI Victory Fund.
The issue of immigration seems to be the No. 1 issue pulling AAPI voters away from the edge of invisibility. There are more Asians immigrating to the U.S. than people coming from Latin America, including Mexico. Immigration and the birthrate will push the AAPI community past the African American community by 2065. The number of eligible voters will double by 2040.
But the growing influence and prominence of AAPI can't wait another 20 years to gain attention of the political power brokers. Many AAPI organizations are busy registering their neighbors to vote to have an impact now – tomorrow (June 7) and in November.
Clinton's campaign began wooing the AAPI vote by attending the launch of AAPI for Hillary last year.  Besides the congressional representatives backing, the campaign locked up the endorsements of most of California's AAPI local elected officials while Sanders was focusing on the early primaries. The campaign launched PSA's in various Asian languages recognizing the diversity of the AAPI community.
RELATED: Clinton targeting AAPI voters
But the last two weeks, Sanders has been relentless in his campaigning in California showing that he too has AAPI support, especially among Millennials. He still draws huge passionate crowds — from the Central Valley to the urban centers on the coast. He emphasizes his family's immigrant roots and his usual talking points — free college, punish the 1 Percent — are appealing to younger Asians.
Sanders aggressive campaigning might be working. A University of Southern California/Los Angeles Times poll released on June 3 showed Sanders with a one-percentage-point lead over Clinton in the state, 44 to 43 percent, a swing from March when Clinton held a nine-point edge.
"We (National Nurses United) are for Bernie because Bernie is for the real people, the 99 percent," said Zenei Cortez, a member of the National Nurses United union and a Bernie Sanders delegate for California Congressional District 14.  At the Palo Alto forum, she said, "Bernie shares the same values as the nurses. We are all about caring, compassion, and community, just like what Bernie is doing."
Clinton supporters may be nervous at Sanders apparent success in siphoning of some of Clinton's  lead in minority communities. "If Clinton's internal numbers were strong, she would likely spend more time interacting with donors and holding fewer, bigger rallies in preparation for the general election against Trump," said Jennifer Walsh, dean of the College of Liberal Arts and Sciences at Azusa Pacific University.
"However, her efforts in recent days to connect with voters in much smaller, more rural areas suggest that she needs a large Democratic turnout next week," said Walsh, "and is doing all that she can to rally voters."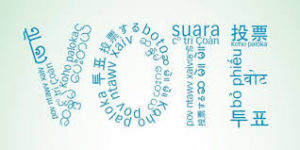 A Bill Clinton appearance in Los Angeles last month paid homage to Asian American Pacific Islander Heritage Month. On Saturday (June 4), he visited Inglewood and Compton, both cities with majority-minority populations. Hillary Clinton campaigned in Oakland and East Los Angeles Sunday. The day before the primary, Hillary and Bill Clinton have nine events in northern and southern California in Long Beach, Hayward, Antioch, Richmond, Long Beach, all communities with heavy minority populations.
In addition, the Clinton campaign has held events at the California African American Museum in Los Angeles and Garden Grove, home to a large Vietnamese American community.
Marcia Godwin, a professor of public administration at the University of La Verne, said Clinton "seems to be targeting communities that are both diverse and more working class, where there are large numbers of Democrats or Democratic-leaning voters who vote more occasionally."
Sanders, meanwhile, is depending on a series of free concerts to draw tens of thousands of people. He will culminate his California campaigning Monday (June 6) with a free concert expected to draw thousands to Chrissy Field in San Francisco.  Guests include Dave Matthews, Fantastic Negrito, Fish, Danny Glover and Dr. Cornel West. The concert is supposed to start around 3:30 p.m. 
RSVPs
are strongly encouraged.
Besides the major political parties, a host of AAPI organizations – partisan and nonpartisan – are out in the streets registering AAPI voters. That voter drive will continue until the November elections.
"The 2016 election cycle will be the largest mobilization of AAPIs in civic engagement," wrote Christine Chen and Carolyn DeWitt for
NBC
. Chen is the executive director of APIAVote and Carolyn DeWitt is COO of Rock the Vote.
"An unprecedented number of AAPI organizations and community leaders are coming together to ensure we effectively register and engage AAPI voters. We look not to the distant future for this community to grow, but to today and tomorrow — AAPIs are taking action, are organizing, and are prepared for the now."