By Louis Chan
AsAmNews National Correspondent
A new film based on a recent comedy performance from Slanty Eye Mama debuts Monday in New York at the Soho International Film Festival.
Slanty Eye Mama is the comedy duo of Kate Rigg, a self-described "mixed race multi cult post modern optimist" and Chinese American Lyris Hung.
Happy Lucky Golden Tofu Panda Dragon Good Time Fun Fun Show was filmed during a series of performances this past December in New York.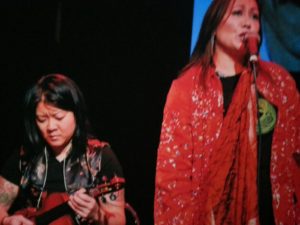 "There has been a lot in the media and world about "diversity in the arts" "new voices" "shaking up the establishment" "non traditional casting" and some people have been campaigning hard to change things in Hollywood for women, Asian Americans, people of color," said Rigg. "The most important thing to me is that people SHOW UP live and in person to see the film, hang with us and take a little step for diversity in the arts. And comedy. And electric violin.

The premiere takes place Monday at 730pm with the free after party across the street at Pangea at around 9.
The film is directed by Carrie Preston.
RELATED STORY:
Slanty Eye Mama Love You Long Time
AsAmNews is an all-volunteer effort of dedicated staff and interns. You can show your support by liking our Facebook page at  www.facebook.com/asamnews, following us on Twitter, sharing our stories, interning or joining our staff.