By Susan Chang
AsAmNews Staff Writer
Could #StarringJayChou be the next trending hashtag, after #StarringJohnCho? This time however, fans won't have to Photoshop Taiwanese pop star Jay Chou's face onto movie posters, at least not on the posters for Now You See Me 2, directed by Jon Chu. The thriller film, starring Jesse Eisenberg, Mark Ruffalo, Woody Harrelson, Dave Franco, Daniel Radcliffe, Lizzy Caplan, Sanaa Lathan, Michael Caine, Morgan Freeman, and Jay Chou, is a sequel to Now You See Me, where four performance magicians known as the Four Horsemen evade the FBI as they use their skills as magicians to conduct money-pilfering heists while entertaining audiences.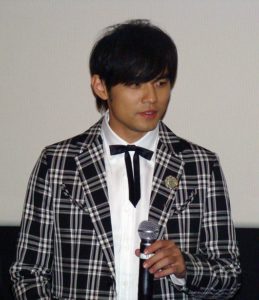 Chou made his first appeal to Western audiences with his Hollywood debut in The Green Hornet. In that film's posters, however, Chou was masked, making him unrecognizable. Despite his relatively small part in Now You See Me 2, Chou can be seen completely recognizable alongside the other starring actors in the movie's promotional posters, "like a police lineup," according to Vanity Fair. In this manner, no one actor is in the spotlight, challenging #WhiteWashedOUT and validating the Asian actor's important role in the film.
According to a clip from the film, the Horsemen somehow find themselves in Macau, where they seek to sabotage a corrupt businessman's data-mining scheme in their new heist. Chou appears as magic shop owner Li, "…not Bruce Lee," Chou's character coolly clarifies. The Horsemen approach Li at his magic shop for his assistance in their heist.  Li reveals himself to be a bit of a magician himself, showing off his skills with charm.
Li's debonaire presentation, according to the film's director, serves to both challenge the use of Asian characters in Hollywood films for oriental exoticism and to defy the stereotype of the nerdy, emasculated Asian man. "[Chou's character] oozes with coolness, which is really great, as an Asian American male myself. When you look at him, you're like, I want to be just like that guy," Chu said to Buzzfeed.
Chou also sings and performs the film's theme song. The theme song, written in Chinese lyrics, can be heard throughout the film's promotional trailer for American and international audiences. Chou's music video, performed in the pop star's trademark hip hop style, can be viewed on YouTube.
https://youtu.be/8zTzBo5A62U
AsAmNews is an all-volunteer effort of dedicated staff and interns. You can show your support by liking our Facebook page at  www.facebook.com/asamnews, following us on Twitter, sharing our stories, interning or joining our staff.