There's a silly new comedy on TBS that frankly deserves a look.
Wrecked is supposed to be a satiric takeoff of the cult show Lost on ABC, but this comedy feels more like the move franchise Airplane.
As with Lost, it features two Asian Americans as part of an ensemble cast.
Ally Maki plays Jess, one of many survivors of a plane crash on a deserted island. Her boyfriend Todd (Will Greenberg) also survives the crash and is one arrogant SOB. Don't expect Maki to play the subservient Asian girlfriend to the White boyfriend. She holds her own, although some Asian American viewers will be upset once again an Asian actress has a White boyfriend.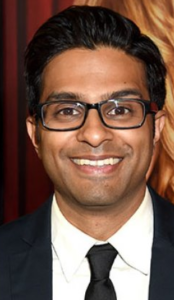 There is an Asian male on the cast. He's Asif Ali who has a great running joke in episode two where he is seen literally with his pants down, body parts exposed (although obscured for television), trying to get a signal on a satellite phone he found.
As you might have already figured out, Wrecked is rated M for mature audiences.
Frankly I did not even know Wrecked was on the air until I saw an article featuring Maki in Elle .
My interest peaked when the magazine reported Maki played the female lead in the show.
"It's such a learning curve," Maki told Elle. "I feel like I had to train my own brain to stop being like, 'Oh, how can I help the main girl?' I had to realize that Jess has an arc, she has a story to tell, she has to evolve. And it was a total revelation for me. Like, 'Wow, Ally. Your character and your story do matter.'"
I've seen the first two episode on TBS website and both are chuckle worthy. It's hard to tell Maki is a lead character based on the first two shows. As I said earlier, this is an ensemble cast.
IMDB lists Maki second in its cast credits and says she appears in five of the ten shows scheduled for the first season.
Lost boosted both the careers of Daniel Dae Kim who went on to Hawaii Five-O fame and Yunjin Kim who appears in ABC summer series Mistress. Hopefully Wrecked has a nice run and we see a lot more of Maki and Ali.
Wrecked can be seen Tuesday night's at 10/9C. on TBS.

AsAmNews is an all-volunteer effort of dedicated staff and interns. You can show your support by liking our Facebook page at  www.facebook.com/asamnews, following us on Twitter, sharing our stories, interning or joining our staff.