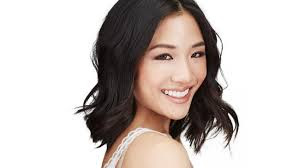 By Ed Diokno
A year ago, when news broke that a movie was being made from the novel Crazy Rich Asians, some people asked, "Where would you find enough Asians to play in that movie?"
That's a silly question.
In response, The Hollywood Reporter did a piece about the perfect cast for the Kevin Kwan best seller . Heading the dream cast would be Constance Wu as Rachel Chu.
"Thanks to her breakout performance on Fresh Off the Boat, the rising star is quickly finding fans around the world," wrote THR. "Wu, a Virginia native and SUNY Purchase grad, actually has more in common with CRA's Asian American heroine than with the immigrant mom she so hilariously plays on the ABC hit comedy, and she'd be able to portray Rachel's down-to-earth innocence as a normal girl suddenly thrust into the harsh spotlight of Singapore high society."
Mark Chao would play Nicholas Young.  "In the past five years, the Taiwanese-Canadian actor has become one of Asia's most sought-after leading men and has the charisma and warmth to portray the reluctant Prince Charming at the center of Crazy Rich Asians," captioned the Reporter. "The So Young star, who is fluent in English, signed with UTA last year and is exploring his crossover options, starting with a principal role in Luc Besson's France-China co-production Warriors Gate."
THR thought of Joan Chen as Nicholas' domineering mother opposing the match between her rich son and the (gasp) American foreigner?
And wouldn't it be something to see the sparks fly when Crouching Tiger, Hidden Dragon's Michelle Yeoh as Rachel's single mom lock horns with Joan Chen's character? Wow!
Since director John Chu vowed he would forgo any suggestions that some of the characters be whitewashed (turning some Asian roles into Euro American characters), if you were casting director, who would you put into those roles?
When asked who would be in his dream cast, Kwan told the Hollywood Reporter, "Personally I'd like Emma Stone to play every single role in the movie. (Laughs.) We'll just CGI her."
"It's so perplexing to see how casting in Hollywood is so defensive. I think audiences are much more accepting of casting choices," said Kwan as he got more serious. "When Crazy Rich Asians came out, there was initial interest from a producer who wanted to change [the heroine] Rachel Chu into a White girl. I tell that story to book clubs in suburban middle America and they go crazy: 'Why does Hollywood think we would want to see this movie with White people?' They don't need every film to be chock-full of the latest stars."

RELATED: John Chu – from the streets of NYC to Hollywood back lots

"There are so many missed casting opportunities in Hollywood. It's still very much a challenge, but I have faith in the talent pool not just of existing actors, but also of actors coming out of film schools in England, in Australia, who are Asian. My hope is that there will be equal representation in terms of Singapore stars, Hong Kong stars, Asian American stars, mainland Chinese stars — I would love for it to be like a dream team cast."

Crazy Rich Asians, the novel, proved that readers are attracted to good stories with interesting characters no matter what race they are. The movie has the potential to have the same impact for films. In that context, Crazy Rich Asians, the movie, could make a huge  statement to Hollywood decision-makers who have been reluctant to make movies with Asian American actors in substantial, impactful roles.
If the movie is a box-office success, it would be a sea change, a culture-shifting event, in Asian American history. Most certainly there would be a sequel. Already, China Rich Girlfriend, which was released last year is the second book in what is envisioned by the author as a trilogy.
Where would you find enough Asian actors? Indeed, that's a really silly question