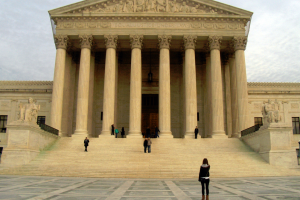 By Louis Chan
AsAmNews National Correspondent
By a 4-3 majority, the U.S. Supreme Court has upheld the use of race in admissions at the University of Texas as constitutional.
The case was filed by Abigail Fisher, a White student, who alleged the University passed her over for admissions in favor of less qualified minority students.
Only seven justices participated in the decision because Justice Elena Kagan recused herself due to her participation in the case when she worked as Solicitor General.
The seat of the late Antonin Scalia remains vacant because the Republican majority refuses to put up the nomination of Justice Merrick Garland for a vote.
"We are pleased that the U.S. Supreme Court acknowledges the continued need for affirmative action policies that make it possible for students of all backgrounds, including many historically disadvantaged Asian American and Pacific Islanders, to access higher education and create a stronger country through their contributions to a diverse society," said Mee Moua, President and Executive Director of Advancing Justice | AAJC to  AsAmNews.
Affirmative Action has divided the Asian American community with second and third generation Asian Americans generally in support of it, and first generation Asians, primarily Chinese Americans, opposed.
Among those outspoken against affirmative action is 80-20, a political action committee, lead by former Delaware Lieutenant Governor S.B. Woo.
"Asian Americans on average must give 140 SAT points to white applicants," said Woo this morning to AsAmNews. "It's such a resounding contradiction that Fisher v University of Tex didn't emphasize enough. If I had the money, it takes millions, I would challenge the university on exactly that point and work it on that point. Forget the Hispanics, forget the Blacks, just make a straight forward comparison between Asian Americans and White.
Woo pointed out the Supreme Court made it a point to say their decision does not mean the "University may rely on the same policy without refinement."
"I'm not saying its a victory at all," Woo clarified. "It's a victory for the current admission program. However, know what the court said. It requires refinement."
The majority in the ruling cited a brief filed by the Asian American Legal Defense and Education Fund.
"We are glad that the Supreme Court recognized that UT-Austin may consider race as one of many factors in its admissions process," said Margaret Fung, AALDEF's Executive Director. "Asian Americans and Pacific Islanders benefit from an individualized approach to admissions that considers all of an applicant's qualities, including race, language, class, and parental education. Justice Kennedy's opinion at page 5 also cited AALDEF's amicus brief, noting that Fisher's assertion that UT-Austin discriminates against Asian Americans is "entirely unsupported by evidence in the record or empirical data." We hope that colleges and universities will continue to support diversity considerations in their admissions policies."
AsAmNews is an all-volunteer effort of dedicated staff and interns. You can show your support by liking our Facebook page at  www.facebook.com/asamnews, following us on Twitter, sharing our stories, interning or joining our staff.