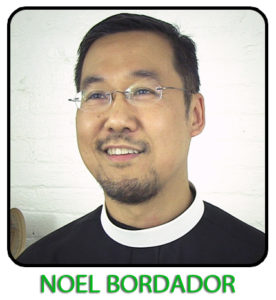 By Susan Chang
AsAmNews Staff Writer
As we end Pride Month in the midst of the Orlando tragedy and disappointment over the US Supreme Court's decision to deny immigrants' rights,  we must not give up the fight for rights as LGBTQ APIs and immigrants. Rev. Noel Bordador is not giving up.
Rev. Noel Bordador is an Episcopal priest in the Diocese of New York. Originally from the Philippines, he came to the US in 1979 at age fourteen to study high school in Queens, NY, on a tourist visa, according to Make the Road NY.
A year later, however, his tourist visa lapsed, and his request to convert it to a student visa was denied by the Immigration and Naturalization Service, who ordered him to go back to the Philippines. Rather than going back to the Philippines, he stayed in the US and enrolled in college. "I felt that I could better nurture my gay identity here," Bordador said on Making Contact's radio show. But he was unable to see his family for the next eight years. He was living as an undocumented immigrant.
Bordador recalls how, as he was leaving for the US for the first time, his grandmother, "the only woman I ever loved," portended that they would not see each other again. Shortly thereafter, his grandmother passed away, and he faced a hard decision: to go back to the Philippines to say goodbye to his beloved grandmother and to risk not being able to reenter the US, or to stay in the country with his partner at the time. He chose the latter, but "it was probably one of the most wounding experiences of my life, not being able to say goodbye," Bordador says.
But his first boyfriend proved to be violent, and Bordador found himself in a domestic abuse situation. His boyfriend had even threatened to have him deported. Even after a particularly violent incident, Bordador did not go to the hospital or police for fear of being deported. "This story is not unique, because … many undocumented immigrants who are in domestic violence situations do not seek the necessary medical and legal services for fear of being deported," he said.
But things started looking up for him. Bordador got out of his abusive relationship, and continued his schooling to receive three graduate degrees. In 1987, he was granted amnesty under the Immigration Reform and Control Act of 1986 of the Reagan administration. Ten years later, he became a US citizen.
"My wound allows me to bind the wounds of others," Noel says in a recent interview with me. But, as he said on Making Contact, "from this wound emerged my vocation as a priest and my calling as a social worker to dedicate my life … to the most vulnerable residents and citizens of this country."
Recently, I had the pleasure of interviewing Rev. Noel Bordador to better understand his experiences.
Q:
Could you compare your experiences as a gay man of color living as an undocumented immigrant to your experiences after gaining amnesty and eventual US citizenship?
A:
Before 1987 when I was granted amnesty, I had to deal with living in two closets. As a gay man, I was hiding my sexual orientation from most of my family. My family was religiously and politically conservative. Though I accepted my sexual orientation when I came out to myself in the early 1980s, I had to deal with issues of shame as it relates to my family and the Filipino culture. I felt I had to hide my real self to my family. I was fearful that I might be sent back home to the Philippines where I could not be myself. There would have been considerable cultural and familial pressure to suppress my gay life, even pressure to get married.
Of course, I found support in dealing with my gayness among my gay friends and gay groups I joined. However, I wasn't out to them about my undocumented status. Part of that is shame, and part of that is fear that I might be deported. At that time, I also developed a serious relationship with a man, and being undocumented presented some challenges to our relationship. What would happen to our relationship if somehow I had to leave the country. Reentry would probably not be possible. Would that be the end of our relationship?
Amnesty exploded the two closets. Three things happened. First, I felt freer to come out to my family without the fear I would be sent back to the Philippines without the possibility of returning. I can stay, work legally (which I could not do before though I did work and pay my taxes) and support myself. I can now be me. The truth indeed set me free. Secondly, I also felt freer to enter into a relationship without my immigration affecting our relationship. I don't have to hide myself as an undocumented immigrant to anyone. Thirdly, since I could work freely and legally, then I could pursue my vocation- first as a social worker, and then a priest. I can openly contribute as a citizen to the United States, my new home.
Q:
How does your background as a gay immigrant color your experience and practice as an Episcopalian priest?
A:
The Christian Church, for the most part of its history, has not been kind to LGBTQ persons. It has a history of preaching the lie that somehow God does not love us for who we are. The Church has a history of persecuting us. So many LGBTQ persons who are raised in the Church are not entirely "at home" in it, and many have left the Church. I can relate to the spiritual pain. Ever since I was young, I've heard the Church say that being LGBTQ is simply wrong, and that we don't have the right to love. As a priest, I want to tell people that God loves the LGBTQ person as much as God loves our straight brothers and sisters. In any church I minister, I would like to create an atmosphere and message of welcome to all people, including LGBTQs. I want God's house to be a home for everybody.
My experience as an undocumented immigrant was pretty wounding, but it did not defeat me. For so many years as an undocumented, I felt "homeless" while living in the USA. I knew I wasn't a legal resident. I believe that experience made me a spiritual kin to people who are feeling homeless- whether that be an LGBTQ feeling spiritually homeless, or another undocumented immigrant fearing deportation, or a homeless person on the streets, or a person thrown out of the house by family or ostracized by friends because of HIV status.  The worse thing that a person could feel is loneliness, not having a sense of belonging or community or family. So since my amnesty, before I became a priest and when I became a priest, a great deal of my work and ministry has been ministering to the street homeless due to poverty, mental illness, addiction, or simply, being thrown out of the family home because of HIV status or being LGBTQ. My wound allows me to bind the wounds of others.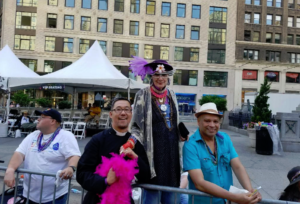 Q:
You had the support of a gay Roman Catholic group Dignity as well as a gay telephone switchboard during your coming out process. How would your process of coping with your past struggles of coming out, living as an undocumented immigrant, and domestic abuse have differed with the organized support groups we have today?
A:
I was just so glad and relieved to have the Gay Switchboard which I called when I was really struggling with coming out. I was seventeen then, was really depressed. I couldn't turn to my family or my parish priest. I remember spending hours with a very patient counselor on the hotline who emphatically and compassionately helped me through my stuff. He also referred me to Dignity, a spiritual group for LGBTQ Catholics. We did not have a lot of groups then that provided supportive assistance to coming out LGBTQs, not like today. There were no API LGBTQ groups back then, except the Asian Lesbians of the East Coast. We did not have the LGBTQ Center which we have now. The main gathering for LGBTQs were the bars, but even back then, there was only one bar that catered to gay Asian men. I went to the LGBTQ Pride March (this past weekend) and saw the myriads of LGBTQ groups. I wish it was like that when I first came out.
Q:
How do you think the Orlando tragedy affects the Filipino American LGBTQs  you work with? How did it affect you?
A:
"We are Orlando." That slogan captures it all. We feel that the attack on these 49 individuals were an attack on us, an attack on our very being. It was an attack on who we are. But then we are often faced with prejudices we encounter from others on a daily basis- at the office, at our churches, from family or our politicians. We are constantly bombarded with negative messages that diminishes us. If it were true that the perpetrator was an self-hating gay man who unleashed his hate on to his own community, that hate was instilled in him for a long, long time. So we need to fight homophobia at all levels.
Q:
What are your next steps as a social worker and priest to dealing with the disappointment of the Supreme Court decision to deny immigrant rights?
A:
Currently, I volunteer for First Friends, a great organization that serves  undocumented immigrants detained by the Immigration and Customs Enforcement (ICE) in some jails and detention centers in New Jersey. We visit for support and companionship since many of them are without family in the USA.  We sometimes cooperate with their legal teams to advocate release. First Friends not only provides visitations, but also speaks out about the plight of these immigrants in detention centers- such as punitive solitary confinement, lack of medical care. It also works with many groups towards a just and humane immigration policy, and in light of the grim decision from the Supreme Court, I am sure these organizations will be aggressive in trying to change that. I also volunteer with the Episcopal Diocese of Newark Prison Ministry and we do some pastoral care within these centers. So my next step as priest and social worker is really to continue my volunteer work with these organizations that are already doing great advocacy. But it also means raising up the issue in our congregations and churches, and in the LGBTQ community since there are, I believe, over 260,000 undocumented LGBTQ immigrants, many of whom probably would have been eligible for DACA/DAPA.
Listen to more of Rev. Noel Bordador's story on National Queer Asian Pacific Islander Alliance's (NQAPIA's) Uncovering Our Stories.
At the end of our interview, Noel left me with a photo of him at the New York City Pride parade from a couple days ago.
Noel is pictured at center, and to the right of him is drag queen Rollerina (also Rollerena). Rollerina has been known since the 1970's as the roller-skating "Fairy Godmother" at New York Gay Pride Parades. Bordador first laid eyes on her at his first Pride march in NYC at age 18. "She was thirty-five years old then," he says. "She was thirty five years old then. When I saw her leading the parade filled with pride, I step out from the curb to the streets and hence, for 33 years I've been marching because of her….Rollerina used to go around Greenwich Village and the clubs (including Studio 54) and would wave her fairy wand and give fairy blessings. After 33 years, I saw her yesterday."
AsAmNews is an all-volunteer effort of dedicated staff and interns. You can show your support by liking our Facebook page at  www.facebook.com/asamnews, following us on Twitter, sharing our stories, interning or joining our staff.