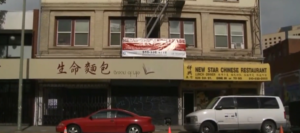 The city of Oakland in California is suing the new owners of a single occupancy tenement accusing the landlords of making conditions unbearable to force the low income tenants out, reports KPIX.

28 families have been forced to share three toilets and a single kitchen since contractors gutted the old ones five months ago.

The landlord claims contracting issues have forced delays.

"Some seniors cannot wait. They use bucket to pee in the bucket," said tenant Mark Yan Wong. He also says the line to use the kitchen each night is long.

Advancing Justice, Asian Law Caucus is assisting the tenants with their plight. Some have already moved out of what they say are unbearable conditions.

"Housing is a human right. All we're asking the landlord is to follow the law," said Christina Dang.



AsAmNews is an all-volunteer effort of dedicated staff and interns. You can show your support by liking our Facebook page at  www.facebook.com/asamnews, following us on Twitter, sharing our stories, interning or joining our staff.