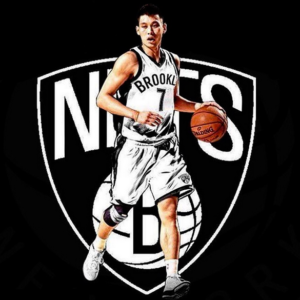 Seven is heaven for Jeremy Lin.
Coming up on his seventh season with a new team, the new Brooklyn Net is finally going to get a shot at starting for an NBA team.
It's a role Lin said he won't "shy away" from accepting.
"For me, being 27 now, that's something I wanted," he told ESPN. It's a challenge I wanted to embrace, and I can't wait to do that. … I'm going to be the guy bringing it up the floor and leading the team. And that's definitely something that appealed to me," he said while in Las Vegas to check out the young talent at the NBA Summer League.
Lin is looking forward to working with 7 foot center Brook Lopez and his other team mates and reuniting with his head coach, Kenny Atkinson, who he had a strong relationship with when Atkinson was an assistant with the New York Knicks.
"I'm definitely coming in [understanding] what my role is. I'm the playmaker. I'm the point guard. I've got to lead. I've got to be an extension of the coach."
Lin said none of this would have been possible without Yao Ming, whose career Lin said he looked up to during his youth. Lin hopes he can be an inspiration for other Asian American players the way Yao was an inspiration for him. You can hear Lin's comments on Yao in the video clip below.
AsAmNews is an all-volunteer effort of dedicated staff and interns. You can show your support by liking our Facebook page at  www.facebook.com/asamnews, following us on Twitter, sharing our stories, interning or joining our staff.