New American Media.
Last month's 4-4 split decision in the U.S. Supreme Court was a blow to DAPA (Deferred Action for Parents of Americans and Lawful Permanent Residents) and the expanded DACA (Deferred Action for Childhood Arrivals) programs.
Still in effect is the original DACA program which protects eligible undocumented immigrants from deportation for two years and allows them to work legally in the United States.  Those that qualify must have entered the United States before age 16 and be under the age of 31. Expanded DACA would have eliminated the upper age limit.
Many of those who were under the original DACA program must now renewal their application as their two years is nearing an end. However, with the uncertain political climate, some have expressed fears that they may put themselves in jeopardy if the new president ends DACA.
"There is no evidence of this," said Sally Kinoshita, deputy director of Immigrant Legal Resource Center. "There have been numerous programs like this, and there is no evidence of the government going after you."
Since 2012, 728,000 have received DACA, however researchers say Asians have been severely underrepresented in the applicant pool.
Only 18,000 people from South Korea, the Philippines, India and Pakistan have applied.
Among eligible Filipinos, just 24 percent have applied. The application rate among eligible Indians is 21 percent,  and just 17 percent among eligible South Koreans have applied for DACA.  The Chinese American application rate is so low  it didn't make the list of the top 20 countries of DACA applicants.
This graph from the
Center for American Progress
compares the application rate of those from Mexico to those from South Korea.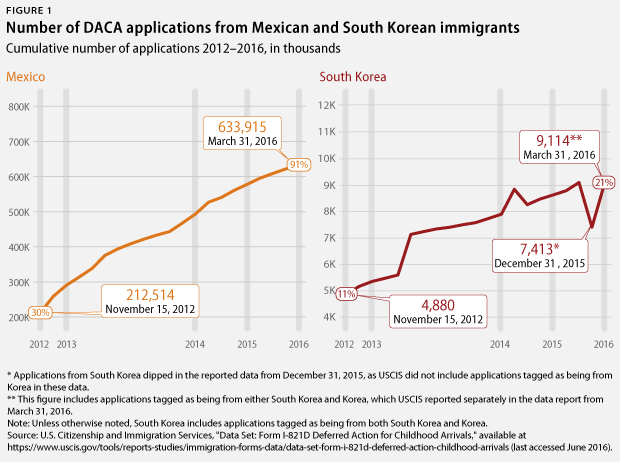 Some blame a cultural stigma attached to being undocumented for the low application rate among Asians. Others point to a language barrier with Asians in the U.S. having the highest rate of limited English-proficiency. Efforts among AAPI groups to increase the application rate have so far not been successful.

AsAmNews is an all-volunteer effort of dedicated staff and interns. You can show your support by liking our Facebook page at 

www.facebook.com/asamnews

,

following us on

Twitter,

sharing our stories,

interning or joining our staff

.

Much confusion and uncertainty may be overwhelming undocumented immigrants seeking a path to citizenship, reports