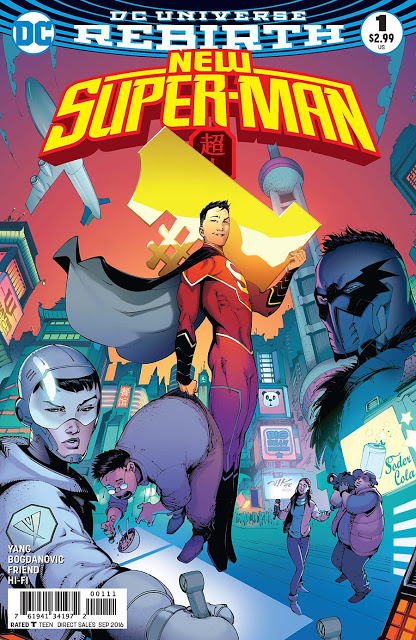 By Ed Diokno
Quick! Head out to your local comic book store and get the first issue of New Super-man, DC Comics contribution to diversifying its pantheon of super heroes.
Although it hit the racks last Wednesday, as a collectors' issue, it might run out fast.
As part of its upcoming Rebirth event, major changes are reshaping the DC comicdom, including a super-powered Lois Lane, a Latina Green Lantern and Kong Kenan, 17-year-old super being who hails from Shanghai.
Written by award-winning graphic novelist Gene Luen Yang, the new series "New Super-Man" will feature the new Man of Steel as a Chinese teenager.
We learn in the first issue that Kong is not from Krypton but how he gets his powers is the gist of the first story line. I won't spoil it for you.
There are parallels to the original: He meets a woman reporter named Laney Lan (get it?). But here is where Kong's story diverges. He's not mild-mannered and he's doesn't have the prerequisite values of your usual hero. In fact, he's an asshole. Hopefully, this gives Yang a lot of room for character development as he discovers the responsibility his newfound power bring.
From DC Comics:
"MADE IN CHINA" Chapter One: An impulsive act of heroism thrusts an arrogant young man into the limelight of Shanghai as China begins to form its own Justice League of powerful heroes. Rising from the ashes of The Final Days of Superman, award-winning writer Gene Luen Yang and on-the-rise art star Viktor Bogdanovic introduce readers to Kong Kenan—the New Super-Man! When the world needed a new hero, China made him!