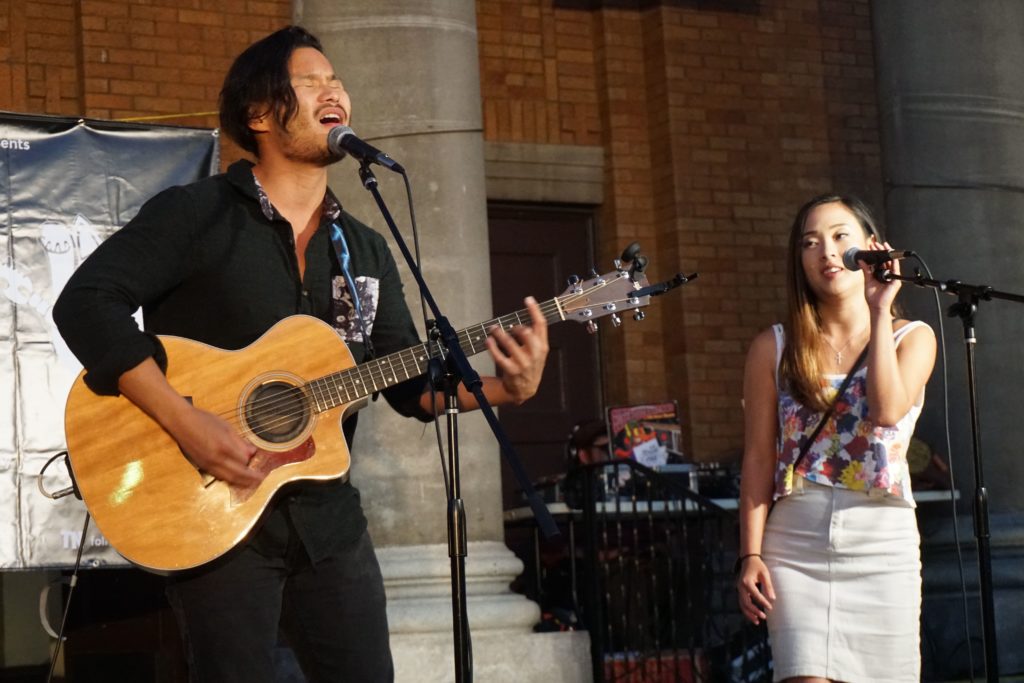 Story & Photos by Karin Chan
A woman's voice carries above the lead-in music to the next arts performance in a packed courtyard Tuesday night in Little Tokyo, Los Angeles.
"Shut the f— up!"
Members of the audience turn around to spot the heckler, but people have occupied every square inch of stand-able, sit-able and breathe-able space. The heckler, from the other side of the gate on the sidewalk, shall remain nameless and faceless.
At Tuesday Night Café, there is no room for hate. The free and public mic series, now in its 18th season, fosters communal love and support for Asian American creators in the visual and performing arts who want to present their original work.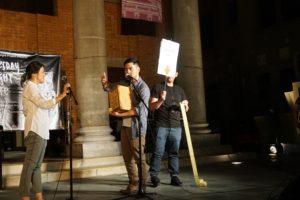 The series location, discovered by co-founder Traci Kato-Kiriyama, is the outdoor space of a building that used to be a church for Japanese Americans during the 20th century, but now houses Asian American arts organizations East West Players Theatre, Visual Communications, and LA Artcore.
"We are the dreams and aspirations of a generation prior to us. The fact that we can do this and share our stories, a couple generations back were not allowed. What we're creating now is something that they've always thought about," says host John Eric Concordia to a Tuesday Night Café audience that has become increasingly younger, compared to the elder Japanese American community who supported the mic series debut in 1998.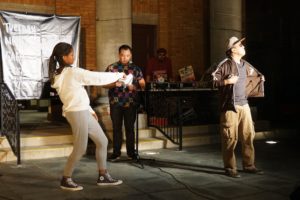 The July 19 show, an effort to "keep TN free," continues despite the brief disruption. Jason Fong, the "guy who does theater," begins his set by calling Concordia of Park's Finest BBQ fame, and activist Sean Miura, to the stage for an impromptu piece. Concordia and Miura stand in front of the Union Center for the Arts, shouting each other's first names in succession until the audience is in uproarious laughter because it's none other than "Sean Jean," portrayed by Fong, that gets called to the stage.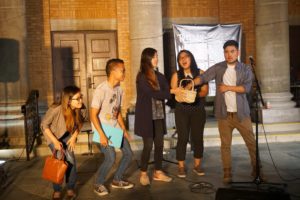 Tuesday Night Café (TNC) organizers have a goal to fundraise $12,000 by the end of July through direct support from the community. At the time of publishing, they have raised almost $1,600, but nowhere near the five-digit goal. They have refused corporate sponsorship offers in the past though, such as McDonalds, because their goal isn't gaining capital investment, but rather personal investment from the audience.
"What does that mean if we have McDonald's on our sign, and we have community members that own small businesses that are restaurants, or people who are community partners that advocate for nutrition health and fight food deserts in our community?" Quincy Surasmith, TNC communications manager, told AsAm News.
The fundraising will allow TNC to sustain their operations budget to replace microphones, cables and lights to run the best live show in town.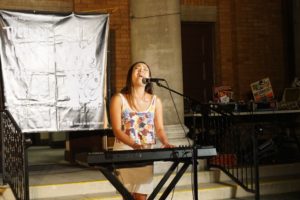 "We make people sound good. We make people look good. If we don't get funded, then it limits our ability to run this program well," Surasmith said. "We are here to support people. We are here to get funded by people, to highlight people, to amplify the stories and voices of people."
Besides five curated acts for the evening, TNC features three lottery-based open mic slots that prioritize one spot for people who identify as youth, woman, non-gender conforming, LGBTQ, elder, person of color or first timer on the mic.
"It's to give people space and time that they wouldn't get elsewhere," Surasmith said. More seasoned artists like Fong also have the opportunity to try raw and fresh material.
Taiwanese-American singer-songwriter, Priska, said that the space is a place of love, no matter which night and crowd.
"It's like, [the performers] happen to be onstage, but we're all in it together, which is different than a regular gig because you're doing work to get people there, or you're trying to show off, or you're trying to make something, sell something," said Priska, who provided backup vocals for fellow musician Peter Su in one of the songs in his set, and performed last in the evening.
Tuesday Night Café can be sustained through donations and shout-outs to the space. Learn more about how you can give here.
AsAmNews is an all-volunteer effort of dedicated staff and interns. You can show your support by liking our Facebook page at  www.facebook.com/asamnews, following us on Twitter, sharing our stories, interning or joining our staff.