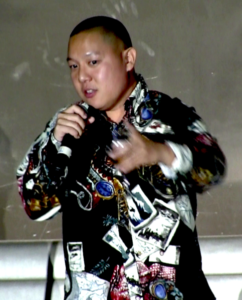 The outspoken Eddie Huang talked about the search for his identity in a wide ranging interview on CCTV.

The celebrity chef whose memoir Fresh Off the Boat inspired the TV show recently released his latest book, Double Cup Love, on the Trail of Family, Food and Broken Hearts in China.

Huang chronicles his journey back to China with members of his family and what he learned about himself and his identity during that trip.

"Race is a social construct," said Huang to host May Lee on CCTV. "The idea of Chinese is different in China, in Taiwan, in Singapore, New York or LA. The only real definition of it that matters is yours.

"You have to figure out what it means to you. All those things that go into that social construct, which is race. You have to take control of it. Everything that was put in your head by somebody else or society and you allowed it to define you is not real. When you start to break it down, you can finally build yourself back up."

Huang says he identifies as a Taiwanese, Chinese New Yorker that was touched by "perverted Orlando." Race in America, he says, still has to get beyond Black and White. He said the controversy over Chris Rocks jokes about Asians on the Oscars shows just how far we still need to come as a society.

"99 percent of what Chris Rock did that night was phenomenal. It was masterful," he said. "But that joke about Asian Americans was terrible. It just shows someone as brilliant as Chris Rock has a blind spot.

He also points out he is very grateful for Black people for pushing the civil rights agenda that has helped all people of color.

"Black people laid a lot of the groundwork for civil rights, for us to start to understand what was happening to us because it happened to them. I gravitated toward it. I related to it. Even as a 5-year-old kid, I would watch Black movies. Listen to Black music.

Huang says its his duty to speak up and he's never been afraid to do so.

"When people call you a chink in school, when people push you down. My parents didn't come to America for this. I'm not the bottom of the barrel. I refuse to let you think that. I stuck up for myself, my family who I know who get the same treatment."

Double Cub Love is published by Penguin Random House.



AsAmNews is an all-volunteer effort of dedicated staff and interns. You can show your support by liking our Facebook page at  www.facebook.com/asamnews, following us on Twitter, sharing our stories, interning or joining our staff.