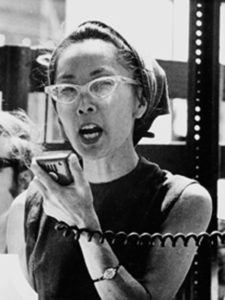 Today, there are 10 million immigrants living in California, according to the California Immigration Policy Center. Immigrants are often one of the most vulnerable populations living in the United States. When convicted of minor crimes, they not only face the threat of detention, but the threat of deportation as well.
This is why Yuri Kochiyama fellows Rajeshree Roy and Aelam Khensamphanh are advocating for changes in America's incarceration and deportation systems, reports Take Part. Specifically, the fellows plan to lobby for The Public Safety and Rehabilitation Act of 2016, a California ballot initiative that limits prosecutors from charging minors as young as 14 as adults.
RELATED: Google Doodle Remembers the Life of Civil Rights Pioneer Yuri Kochiyama
Roy was abandoned by her mother as a baby and she ended up in the care of sexually abusive family members in Fiji after her father emigrated to the United States.  At 8, she rejoined her father when she immigrated to the US on a green card, but ended up homeless and depressed as a youth when she ran away from home. By 16, police arrested her for a string of violent robberies and a judge sentenced her as an adult to 15 years in prison.
She served her time and attempted to rebuild her life. She got a job, married, and had three children. She would eventually leave an abusive marriage, but ended up struggling economically. In 2014 she was arrested at a WalMart for stealing a garden hose. Immigration authorities eventually detained her under a law passed in the 1990s that subjects immigrants even convicted of minor crimes to deportation. Roy has so far avoided deportation, and after serving 14 months, left detention wanting to work with at-risk youth.
"It's harmful to the wider community for people to lose their family members, and both our fellows in their advocacy work will seek to find alternatives to incarceration to address our vital concerns in a way less harmful to the Asian Pacific Islander community,"   said Angela Chan of the Asian Law Caucus.

The Yuri Kochiyama Fellowship program, sponsored by the Advancing Justice – Asian Law Caucus, is named for the Japanese American political activist who survived the internment camps of World War II, and went on to fight for African American and Asian American civil rights.
AsAmNews is an all-volunteer effort of dedicated staff and interns. You can show your support by liking our Facebook page at  www.facebook.com/asamnews, following us on Twitter, sharing our stories, interning or joining our staff.