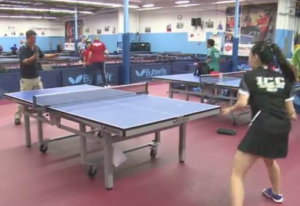 All six members of the U.S. Olympic ping pong team are Asian Americans.
Five of the members are Chinese American and an Indian American rounds out the team.
Kanak Jha, 16, is the youngest Olympian representing the USA. He will enter his third year of high school in the fall.
"I don't think that will matter when I get there," Jha told the San Francisco Chronicle. "Whoever I play against at the Olympics won't care how old I am."
Jha makes his home base in the Silicon Valley town of Milpitas at the India Community Center, as do two other Olympians –Jiaqi Zheng and Lily Zhang
"We can compete with the top countries – Japan, China, you know," said Zhang. "It's just difficult when we reach like 18,19, when we go to college. It's not an NCAA sport. There's no professional league here. So we can't support ourselves," she told CCTV
Zhang has won a medal at the Youth Olympic games, but no American has ever medaled in ping pong at the Olympics.

AsAmNews is an all-volunteer effort of dedicated staff and interns. You can show your support by liking our Facebook page at  www.facebook.com/asamnews, following us on Twitter, sharing our stories, interning or joining our staff.