While all eyes are on the Summer Olympics in Rio right now, two Winter Olympians managed to get into the spotlight as well.

Maia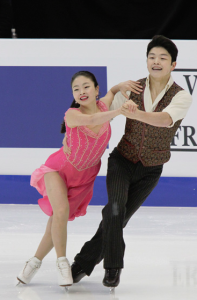 and Alex Shibutani, the darlings of the ice dance skating world and this year's World silver medalists, were named the 2016 Skating Magazine's 2016 Reader's Choice Award winners.

Nearly 37,000 reads cast votes online during the week of June 30 – July 7. Tyler Pierce finished second in the reader's poll coming off at fifth place finish at the 2016 U.S. Championships, and U.S. pairs champions Tarah Kayne and Danny O'Shea finished in third place in the poll.

The so called Shib Sibs will receive the Michelle Kwan Trophy at the 2017 Prudential U.S. Figure Skating Championships in Kansas City, Missouri.

"The significance of this award is in its name," Maia said. "It's an honor to join the amazing group of skaters who have won this award before us. Last season was our best so far, and we are thankful for all the support and votes."

"It has really been a journey, but having unwavering support from our parents, coaches and skating family has meant everything to us," Alex said. "While we have amazing fans around the world, having the opportunity to compete at nationals in Saint Paul and at the World Championships in Boston in front of American crowds was incredible."

The Shibutanis' also won a gold medal at the 2016 Four Continents Championships, a title at 2015 NHK Trophy and a silver medal at 2015 Skate Canada. They finished fourth at the Grand Prix Final.

Among other Asian Americans who have won this award are six time winner Michelle Kwan and Kristi Yamaguchi.

AsAmNews is an all-volunteer effort of dedicated staff and interns. You can show your support by liking our Facebook page at  www.facebook.com/asamnews, following us on Twitter, sharing our stories, interning or joining our staff.