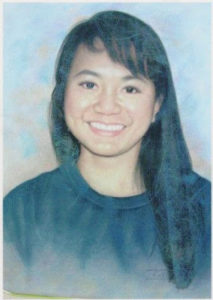 By Ed Diokno
Twenty-four years after the death of a Filipina American student at UC Berkeley, police have finally solved her murder.
UC Berkeley police believe Grace Asuncion, a 20-year-old pre-med student, was stabbed to death in February 1992 by John Iwed, who died from a drug overdose in 1993.
Iwed was a suspect early in the investigation, but police were not able to gather the evidence needed to convict him of the murder. Police did not say why they focused on him initially but did say he had no affiliation with the university and did not know Asuncion.
UC Berkeley police Sgt. Sabrina Reich said in a release last week that the case is considered closed. She said police are "confident we had identified the right person."
The Alameda County district attorney's office reviewed the case, but prosecutors could not file charges because Iwed succumbed to a drug overdose nearly a year after Asuncion was found dead, according to Reich.
Police informed Asuncion's family in July of the new evidence, said her older brother John Asuncion in Agoura Hills, California
"It was a surprise, as you can imagine," John Asuncion, 47, told the Los Angeles Times. "It opened up the old wounds, of course. Speaking for myself, I had accepted — it is what it is. A cold case."
Before his death, Iwed had confessed to his wife that he attacked and killed Asuncion while high on psychedelic drugs, KTVU-TV reported. His wife later told police, but detectives could not verify the account.
Grace Asuncion, a resident of Agoura Hills, California, who was majoring in molecular and cell biology, was stabbed multiple times Feb. 7, 1992,  in the offices of the student group, Pilipino American Alliance. Reports at the time said she often stayed after hours to do her homework in the fifth floor office.
Her body was found by a custodian. There were no signs she was sexually assaulted or robbed and no motive was ever released.
A year after her death, Asuncion's parents filed a wrongful death suit against the university which ended with a $750,000 settlement.