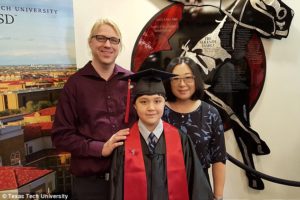 By Ed Diokno
When freshmen start school at Cornell University on Sept. 5, they might be surprised to see Jeremy Shuler in class with them. Jeremy is from Grand Prairie, Texas. He likes playing Minecraft, the Divergent franchise and the Diary of Wimpy Kid. He also likes math.
Jeremy is 12-years old.
Just a few months ago, he graduated from high school at Texas Tech University Independent School District, an online education program.
"Early on we realized Jeremy wasn't really ordinary," parents Harrey and Andy Shuler, both aerospace engineers,
told Texas Tech Today
. While the two have impressive academic backgrounds themselves, they're quick to admit that their son is "much smarter than either of us, for sure."
At age 2 Jeremy was reading books — in English and Korean. By 5, he was studying pre-calculus, and when he took the SAT at age 10, he placed in the 99.6 percentile for all college-bound seniors that year. He also tested as "profoundly gifted" on the WISC-IV — an IQ test for children — with a score of 156, his parents told CNBC.
Instead of staying in the dorms like other freshmen, Jeremy will be allowed to live with his parents. To make Cornell a little bit more comfortable, Jeremy's father got reassigned to an office in Ithaca so the family can stay together.
Jeremy plans to major in applied and engineering physics and minor in mathematics. For the fall semester he plans to take courses in multivariable calculus, physics in mechanics and spatial relativity, Introduction to Computing with MATLAB and introduction to linguistics or intermediate Latin, depending on his Latin placement test result.