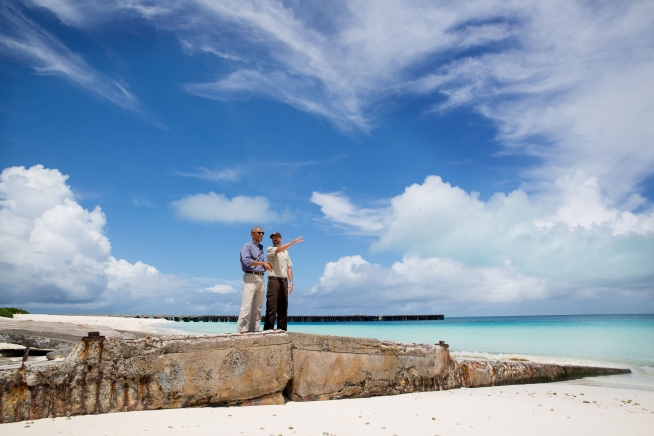 By Ed Diokno
President Barack Obama last December began his remarks in front of a gathering of Pacific Islanders meeting in Paris for climate talks, "I'm an island boy."
This week he stopped in Hawaii on his way to Asia where he plans to have climate change as a theme throughout his trip.
"Few people understand, I think, the stakes better than our Pacific Island leaders, because they're seeing already the impact," he told a group of Pacific Island leaders and conservationists at the East-West Center in Honolulu on Wednesday. "Rising temperatures and sea levels pose an existential threat to your countries.
"Crops are withering in the Marshall Islands. Kiribati bought land in another country because theirs may someday be submerged. High seas forced villagers from their homes in Fiji," said Obama, who early in his first term billed himself as "America's first Pacific president."
He also noted that he brought his children to Hawaii for Christmas vacation every year. "I want to make sure that when they are bringing their children here or grandchildren that they are able to appreciate the wonders of this island," he said in closing.
RELATED:
Earlier this week, he announced the expansion of the national monument off of Hawaii, vastly enlarging an area in a region that six presidents have sought to protect.
On Thursday, Sept. 1, he landed on Midway Atoll, now a part of the Papahanaumokuakea Marine National Monument, which spans 582,578 square miles – roughly four times the size of California.The enlarged monument is home to more than 7,000 species, including green turtles, endangered Hawaiian monk seals, various seabirds and a newly discovered octopus scientists nicknamed Casper. As many as a quarter of the species are found nowhere else on the planet.
The monument expansion is part of the president's legacy of conservation. In addition, the Obama Administration is announcing nearly $40 million in new programming to enhance resilience to climate change and advance clean-energy development by building regional, national, and local capacity in the Pacific Islands to prepare for and help mitigate the negative impacts of climate change.
These steps come as sea level rise and the increased strength and frequency of catastrophic weather events pose an existential threat to places most vulnerable to their impacts, such as the Pacific Islands. In addition, and consistent with the theme of this year's World Conservation Congress, the Administration is announcing policies to promote conservation and combat climate change by protecting wildlife, oceans, and lands.
Throughout the week, senior Administration officials, including Secretary of the Interior Sally Jewell, are attending the World Conservation Congress to discuss these steps and hear directly from leaders in government, business, NGOs, Indigenous groups, and youth groups on a broad range of topics related to conservation and climate change.
"I have to say that Teddy Roosevelt gets the credit for starting the national parks system," Obama said, perhaps cementing his record on conservation, "but when you include a big chunk of the Pacific Ocean, we now have actually done more acreage than any other president."
President Obama left Hawaii this morning for China where it is expected that a major announcement will be made regarding the involvement of the U.S. and China in the international climate agreement achieved in Paris in December.Obama's visit to the island state where he was born perhaps will be his last as a sitting President. Towards the end of his East-West speech, he got a bit nostalgic noting that "a lot of my life started within a mile radius of here."
He said his mother and father met "probably a couple hundred yards" from the East-West Center. He went to school about a mile from UH's campus (at Punahou School), and he was born