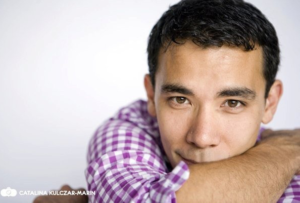 Conrad Ricamora who plays a gay character in the hit series How to Get Away with Murder on ABC has received the Human Rights Campaign Visibility Award, reports LGBTQ Nation.

Ricamora was born in Manila. His father is of Filipino descent and his mother is German and Irish.

"I will say that it's a little ironic to be getting the Visibility Award because so much of growing up as a kid was spent trying to be invisible," said Ricamora. "It was rough, not only being gay, but having the colored skin that I have. I was terrified that someone would see me as gay and I was also terrified that I would see myself for what I naturally was."

Ricamora began in 2014 playing the recurring role of Oliver, but by season 3 became a series regular. He is the only openly gay Asian American character on prime time television. You can see clips from his show and performance on the off broadway hit Here Lies Love and the King & I below as well as his acceptance speech.



AsAmNews is an all-volunteer effort of dedicated staff and interns. You can show your support by liking our Facebook page at  www.facebook.com/asamnews, following us on Twitter, sharing our stories, interning or joining our staff.