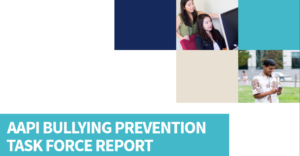 Many victims of bullying in the Asian American Pacific Islander community may not be coming forward due to a lack of support from teachers and other grown ups, warns a recent report from a White House task force.

Newsworks reports the findings come from 29 listening sessions conducted with students by the White House Initiative on Asian Americans and Pacific Islanders.

"I remember hearing this one story about a kid who wore a turban to school and raised his hand to ask a question," said Maulik Pancholy, an actor who has lent his time and his name to the task force.  "And his teacher said, 'Maybe if you took that turban off, you'd be able to hear better.'"

About 9.2 percent of AAPI students report experiencing bullying, but anecdotal evidence indicates many incidents go unreported and the numbers are much higher. The students feel adults don't understand and their parents are too busy.

Some in the schools point out a lack of resources and funding. The White House Initiative pledges both the increased availability of multilingual materials, funding and programs on cultural competency and bullying.

"For me, one of the big recommendations was around school climate — and how to create a school climate that values and understands and celebrates cultural and linguistic diversity," said Pancholy.
AsAmNews is an all-volunteer effort of dedicated staff and interns. You can show your support by liking our Facebook page at  www.facebook.com/asamnews, following us on Twitter, sharing our stories, interning or joining our staff.